The new Facett hearing aid device has been developed with the backing of the Victorian Government and will give Victorians - particularly those in regional areas - better access to more convenient, affordable hearing aids.
The new device allows users to test their hearing and manage their personalised settings in their own home with a computer or mobile device and the help of online support.
The device's unique modular design allows people to swap out flat batteries and replace old hardware with new upgrades instead of having to buy a completely new device.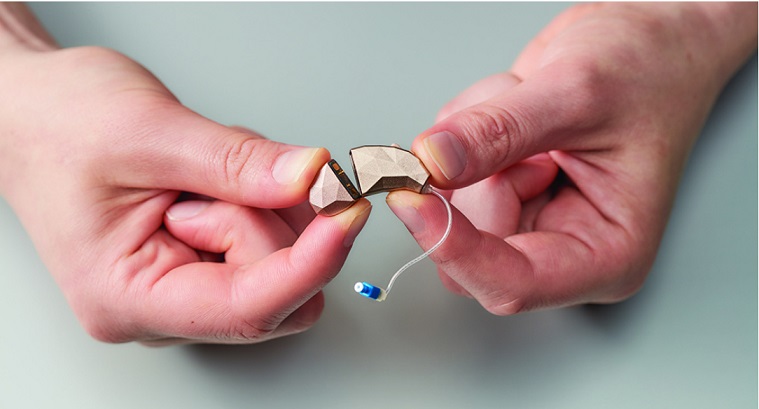 The technology has been designed and manufactured in Victoria. It will reduce the cost of hearing aids and the time spent travelling to specialists, which are often based in Melbourne.
This ground-breaking medtech innovation is the result of a collaboration between Blamey Saunders Hears, Extel Technologies, RMIT and Swinburne University – a partnership that has brought hearing aid development, design and manufacturing to Victoria.
Blamey Saunders Hears co-founders Dr Elaine Saunders and Professor Peter Blamey want to engage directly with customers and reach patients in rural and remote areas. Professor Blamey's cutting-edge technology, the ADRO sound processor, has also been used in another Victorian world-first development – the bionic ear.
One in six Australians suffer from hearing loss – a figure that is expected to increase to one in four by 2050. Untreated hearing loss can lead to serious complications, however distance and prohibitive costs are often a barrier to treatment.
Victoria has a strong track record of world first developments, including customised 3D-printed surgical implants and the robotic prosthetic arm.
Victoria's medical technology and pharmaceuticals industry is vital to the state's future economy, employing around 23,000 people and generating over $12.7 billion in revenue.
The government is supporting the sector through initiatives such as the $200 million Future Industries Fund.