Fintech
Melbourne is Australia's leading tech city, with a growing list of homegrown and foreign fintech firms, find out why.
According to Savills, Melbourne is the only Australian city that is among the best 22 cities for tech companies in the world. Victoria's fintech sector is leading innovation in banking and payments, credit and lending, insurance and wealth management. These three Victorian fintech companies, Airwallex, Judo Bank and Afterpay Touch, are among the world's top 100 fintech innovators.
Financial institutions and newcomers alike are keen to drive innovation. Startups and especially unicorns are great innovators and help to improve the local talent pool. Melbourne is home to more than 330 fintech start-ups, and by the end of 2020, there were five homegrown fintech unicorns headquartered in Melbourne, collectively valued at over US$30 billion.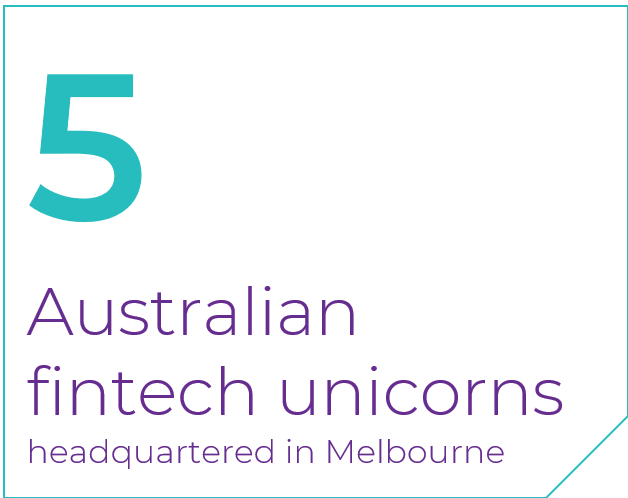 Airwallex was awarded Fintech Organisation of the Year award and AfterPay received the Global Market Presence award at the 2020 Finnie Awards, the national fintech awards run by Fintech Australia that is sponsored by the Victorian Government.
Right on the tail of these unicorns are also scaleups such as Moula ($160 million Series D in 2020), Prospa and Assembly Payments making their mark from Melbourne.
International fintech firms that have joined our thriving ecosystem include Cognizant, Slack, Square, TransferWise, Dataminr, Stripe, Revolut, GoCardless, Transfermate, Xero and Tradeplus24.
Fintech Australia, Australia's national fintech association is also headquartered in Melbourne.
Australia punches above its weight globally for fintech.
In 2019, the A$3.8 billion Australian fintech sector1 saw 252 per cent growth in fintech investment. Frost and Sullivan estimated growth between 2015-20 to be 76.3 per cent per annum and with more than 40 per cent of consumers yet to become fintech adopters the market is predicted to grow further to $18 billion by 20301.
Here are some of Australia's notable attributes: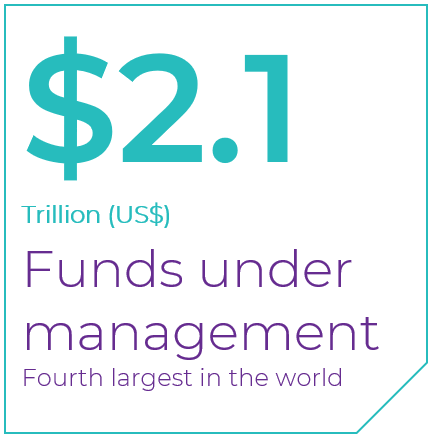 Fourth largest pool of managed funds in the world, valued at US$2.1 trillion in 20192
Number one in the world for contactless payments, with two in every three payments at point of sale now contactless
One of the highest penetrations of smart phones in the world, at around 80 per cent3
One of the fastest growing markets in the world for fintech adoption rates (open to new products),
A global leader in the Buy Now Pay Later (BNPL), with nearly two million (almost one in ten) Australians, or used a BNPL product in 20194
A high cloud-based adoption rate, with 42 per cent of businesses using paid services5
Tenth largest ecommerce market in the world by revenue, reaching $32 billion in 2019
Source:
Alphabeta, Fintech Deep Dive Profile 2019
WorldPay 2020, Global Payments Report - January 2020
Deloitte 2019, The economic value of cloud services in Australia 2019
Australia has regulatory settings that favour fintech adoption
Australian Securities and Investments Commission's (ASIC)'s Enhanced Regulatory Sandbox that allows fintech companies to test their services for up to 24 months without an Australian financial services licence or credit licence.)
Open banking and customer data right legislation
New payments platform that provides open access infrastructure for fast payments in Australia
Established UK-Australia and Singapore-Australia fintech bridge to deepen collaboration between governments, regulators, and industry bodies; while also supporting improved access for Australian FinTech firms to the UK and Singapore markets
There are opportunities right now for fintech in Melbourne and Australia
Here are some of the most significant trends.
Increased fintech adoption activity
Fintech adoption in Australia is steadily increasing, driven by greater use of money transfer and payments, particularly peer-to-peer payments and non-bank money transfers. Continued growth in customer digital adoption provides an opportunity for firms to create more services and improve customer engagement through mobile devices and AI.
Open banking
Australia is seen as having one of the most customer centric models in the world (Forbes, 2018). At the beginning of August 2019, Australia took a major step towards an open data economy by passing Consumer Data Right (CDR) legislation, which gives customers control of their data and enables them to share it with third parties.
There are significant opportunities for fintechs to capitalise on this data and develop new services. Initially applying to banks first, the CDR will then apply to other sectors including energy and telecommunications, creating opportunities for companies to expand their services beyond the financial sector. The Royal Commission into the banking, superannuation and financial services industry has eroded trust in banks. Customers are now more likely to be willing to consider alternatives to 'traditional' loans and investments.
Regulation technology needs
Australia is home to the highest number of regulation technology companies in the Asia Pacific, and the third largest RegTech sector in the world, behind the US and UK. With recent reforms in Australia's banking superannuation and financial services industry, RegTech will become of paramount importance to ensure compliance and transparency within a rapidly evolving banking and securities market in Australia.
The financial services sector is estimated to account for 50 per cent of the local cyber security market. Cyber security will become of paramount importance to increase consumer awareness and confidence in digital products. Melbourne is rapidly emerging as a market for cybersecurity solution services.
Superannuation needs
There is a greater focus on the superannuation sector as a source of capital to fintech start-ups. Due to it being a relatively untapped market, there is an opportunity for fintechs to engage with superannuation funds to create individualised experiences for their members and to provide cost effective advice.
Insurance needs
There are significant opportunities in the sector that are showing considerable growth. Australian incumbents are leveraging parterships to develop innovative insurance products and deliver services that better align with customer expectations.

Why Melbourne for your fintech business?
The Victorian Government 'gets' financial services and understands the importance of building an ecosystem in which fintech businesses are nurtured and encouraged. Melbourne's concentrated finance sector delivers considerable margins with room for fintech to disrupt and grow.
Here are some of the reasons why you should consider Melbourne when setting up your fintech business.
Melbourne has a large and sophisticated financial services sector.
Financial services is the largest industry in Victoria, accounting for A$49.3 billion in Gross Value Add, representing 11 per cent of Victoria's Gross State Product (GSP) and employing approximately 130,000 people.
Making Melbourne their home are:
Two of Australia's top four international banks, NAB and ANZ
Australia's two largest health insurance funds, Medibank Private and BUPA Australia, representing over 50 per cent of the Australian health insurance market share
Two of Australia's top five industry super funds, AustralianSuper and UniSuper, with a combined A$273 billion of funds under management
This has made the city a thriving place for cutting edge fintech start-ups to develop and grow their business.
Deep skills and talent
Victoria's fintech talent pool outperforms other jurisdictions across the APAC region with more professionals skilled in software development compared to Singapore and Hong Kong.
Victoria is the leading state in Australia with largest number of professionals with expertise in programming languages.
Some of Victoria's key talent and skills are in compliance, regulation, data analysis, engineering, information technology, and banking and finance.
Victoria also had more engineering and related technology, and IT graduates in 2019 than any other region in Australia or Singapore.
Innovation fintech hubs, co-working spaces, accelerators and access to capital support
Melbourne has many innovation hubs and co-working spaces, such as YBF, Inspire9, and Stone and Chalk.
Victorian industry and research-led accelerator programs support Victorian-based fintech start-ups, including the Melbourne Accelerator Program, Startupbootcamp and NAB Ventures.
Victorian fintech companies have dominated key funding rounds, accounting for almost 80 per cent of A$2 billion allocated to Australian start-ups in 2018-19.
Perfectly situated for 24 hour product development
Melbourne's time zone bridges the US and European markets, allowing for 24 hour product development
Strong government commitment and support
The Victorian Government:
funds the Innovation Hub in Melbourne's Docklands CBD to bring together businesses, research organisations and industry associations.
is establishing a new digital hub in Cremorne that will be a world class facility to upskill Victoria's tech workforce, foster entrepreneurial startups and drive partnerships in R&D.
has set up a wide range of funding programs and assistance packages to help start-ups grow. For example, it has invested A$60 million in a fund of funds scheme, A$25 million in a venture debt fund and is offering A$50 million in low-interest loans to help fund innovative start-ups undertake research and development.
funds start-up agency LaunchVic, which plays an important role in supporting the start-up ecosystem in areas such as training, pre-accelerator programs and mentoring.
sponsors the Finnies, the national Fintech Awards, and Intersekt, Fintech Australia's annual conference.
Australian fintech series - presented by Invest Victoria
Session 1:  Changes, Opportunities and Challenges
Session 2:  European Fintechs in Australia
Session 3:  Meet the Regulator
Session 4:  Disruption and Transformation in the Financial Sector
Contact us
UK and Europe enquiries
contact Julia Mills
Investment Director
Email Julia
US enquiries contact
Joya Raha
Investment Director
Email Joya
SE Asia enquires contact
Holly Butler
Investment Director
Email Holly
All other enquiries contact
Ian McLean
Market Leader - Melbourne
Email Ian