Highly skilled talent
Melbourne's workforce is the most educated state in Australia
More than half of all Victorians aged 20-64 hold some form of post-secondary qualification. Almost 30 per cent of all Victorians aged 15-74 have a university degree - the highest proportion of all Australian states.
IMD World Talent Index 2019 ranks Australia third in the Asia Pacific for talent. This strong performance reflects our high-quality universities and education standards.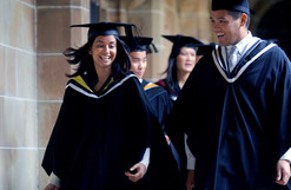 We generate the most commercial graduates in Australia
Victorian universities produce a deep pool of resilient, work-ready graduates. We generate approximately one third of Australia's graduates from key disciplines. We have more university course completions than any other state in management and commerce, natural and physical sciences, information technology, engineering and related technologies, agriculture, education and environment related studies.1 They feed our workforce pipeline and make finding great talent simpler and faster. Victoria is Australia's most highly skilled state.
Source: Department of Education 2018 Award course completions
Victoria produces the most PhD enrolments in Math and Computer Science
Victoria has the most students (35%) and highest growth rate (9%) of any Australian state for students enrolled in math and computer science PhD's.
50 per cent of all students studying Other Information Technology in Australia do so in Victoria.
The majority of students studying math and computer related PhD's in Victoria are international students (58%), up from 52% five years ago.
Source: Australian Government Department of Education and Training, University Statistics, PhD enrolments 2018
Melbourne is home to the highest ranked Australian university
The University of Melbourne is the highest ranked university in Australia and the fourth highest in Asia-Pacific.1
We also produce highly skilled talent from a diverse range of world-class institutions, including Monash University, La Trobe University, Victoria University, Deakin University, RMIT University, Swinburne University of Technology, Federation University and MCD University of Divinity.
Melbourne Business School is ranked as the highest MBA in Australia.2
Victoria's universities have outstanding employability outcomes, with three ranked in global Top 100 and the University of Melbourne ranking 7th in the world.3
Source
Times Higher Education World University Rankings 2021
Financial Times Global MBA 2020
QS World University Rankings, Graduate Employability Rankings 2020
Melbourne is a hot spot for high quality research collaborations
Victorian universities are known for a strong culture of collaboration with industry. Together they collaborate on research, training and education opportunities (university curriculum, the provision of scholarships, internships and facilitating an environment for skilled research talent) to foster a mutually-beneficial relationship that produces a deep pool of resilient, work-ready graduates. It provides industry access to the country's best research talent.
We have over one million Asian and European speakers
Melbourne has a long tradition of immigration from all over the world. A diverse range of European and Asian speakers contribute to the incredible linguistic diversity in Melbourne today.
There are over 600,000 Asian language speakers, over 500,000 European language speakers (other than English), and over 260 languages and dialects spoken in Melbourne
Source: Census 2016, Community Profile