Invest Victoria has an extensive network of partners and organisations who can support companies looking to invest in Victoria.
This network is made up of a wide range of organisations with strong international expertise, including large and boutique professional services firms, bilateral chambers, as well as tech and innovation hubs.
We sit down with Oliver Jankowsky, Partner of Hall & Wilcox - a member of the Invest Victoria Advisory Network – and have a chat about how they can help with the investment journey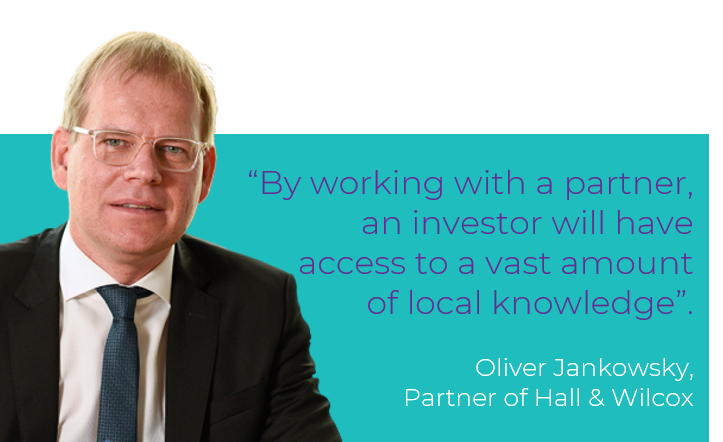 Tell us about your experience working with international companies looking to invest in Australia and choosing Victoria.
The Hall & Wilcox international team has longstanding experience in advising foreign companies on their expansion into Victoria. We have several international desks where native speakers provide legal advice to foreign investors in their own language. The biggest of these desks are our China desk and our German desk.
We have advised on 50+ market entries, which we define as the initial set up in Victoria, both big and small. On the smaller side, we have set up a subsidiary and advised on migration laws so that overseas staff could relocate to Melbourne. On the other end of the scale, we have advised on foreign acquisitions of existing Australian businesses, mainly for a purchase price of up to $150 million.
For example, we provided advice to a well-known packaging producer with headquarters in Asia on their set up of a production facility in regional Victoria. We advised on issues surrounding their former Australian distributor, and on intellectual property topics.
Each property is unique and negotiating the purchase contracts requires consideration of planning restrictions and issues, development potential, liquor licensing requirements, possible environmental liabilities, early access issues, works requirements, and various other risks. Similarly, each vendor has varying degrees of experience and expectations to be managed.
We have taken time to understand our client's goals, business imperatives and risk appetite, and have assisted in tailoring and refining its preferred form of contract of sale. This has enabled us to negotiate the various contracts with the respective vendors and their lawyers more promptly and efficiently.
Our experience is that the following factors often sway investors to invest in Victoria over other Australian States and Territories: the availability of industrial and commercial land for realistic prices, Victoria's strong population growth, availability of highly skilled staff, proximity to Australia's largest container port, favourable tax rates, and good support from State Government.
What kind of challenges do international firms face when entering/expanding/exploring the market?
One of the biggest challenges can be a client's assumption that the laws in Australia are similar to the laws of their home jurisdiction. This is where experienced advisors come in. We can anticipate the questions clients will be asking, actively steer clients away from incorrect assumptions, and will guide them through the process.
Considerations outside of the legal context are also important. The way business is conducted in Australia is different to many overseas jurisdictions. For example, personal relationships are considered to be highly important in Australia. It can also take some adjusting to Australia's economic and geographical setting. If a client comes from a small European country, they may underestimate the distance (and cost of moving products) from Melbourne to Perth.
Some markets are quite different in Australia compared to overseas markets. Such as the grocery market, for example, is dominated by two large players, or the home improvement market where one company is very dominant.
Recently, there have been a lot of material changes to key Australian laws in response to COVID-19 which has impacted access to markets as well as migration, to name a few. It can be overwhelming for overseas market participants to try to stay on top of all these changes without the support of an experienced and knowledgeable advisor.
What particular capabilities/experience/services that could help international investors and how do you assist them to (a) overcome issues and (b) take advantage of the opportunities on offer?
We are a leading, independent, full-service business law firm with extensive experience in working with international clients looking to do business with Australia. To many of our international clients, we are also a commercial advisor and strategic partner, operating as an extension to their team.
While there are over 15 languages spoken throughout our firm, we are best known for our Chinese and German dual qualified lawyers who provide advice to companies and investors from these regions.
We have developed a number of Smarter Law Solutions for our international clients, including the market-first FIRB app (FIRB media release) which allows clients to quickly assess whether they require Foreign Investment Review Board (FIRB) approval for different types of acquisitions. This has proven particularly useful for international businesses seeking to invest in Australia following the recent changes to FIRB rules due to COVID-19.
What opportunities do you see for prospective investors in Victoria to improve their chance of success?
Planning ahead is the key recommendation that I would give. Also, do not set too tight a time frame, and avoid overly aggressive measures of success. Entering the Victorian market should be seen as a long-term investment. It will take some time to recruit the best people and create meaningful business connections.
How does working with a partner with a strong understanding of the Victoria business environment enhance the investor's journey?
By working with a partner with a strong understanding of the Victorian business environment, the investor has access to a vast amount of local knowledge, legal expertise, and experience in all aspects of investing and conducting business in Victoria.
The investor's local partner will help navigate the complex legal and regulatory requirements of doing business in Victoria and throughout Australia. Working with a local partner will also enable you to access their networks of other advisors and business contacts.
***
Thank you for your time, Oliver!
ABOUT
Hall & Wilcox is a pre-eminent independent business law firm with seven offices across Australia.
It employs around 750 people delivering outstanding legal services to corporate, public sector and private clients, both Australian-based and those offshore doing business in Australia.
For more information about Hall & Wilcox and other similar organisations, visit the Invest Victoria Advisory Network.