San Francisco based Swift Navigation has announced that its first office outside San Francisco and the United States will be in Melbourne.
Swift builds Global Navigation Satellite System (GNSS) technology for autonomous applications including automobiles, robotics, agriculture, and rail.
Swift's Melbourne office will be home to research and development, developing global network infrastructure for cloud services and supporting its global network operations and will essentially be the company's test playground for new technology. The Melbourne team will include software developers, computer scientists, cloud engineers, embedded engineers, GNSS experts and program managers.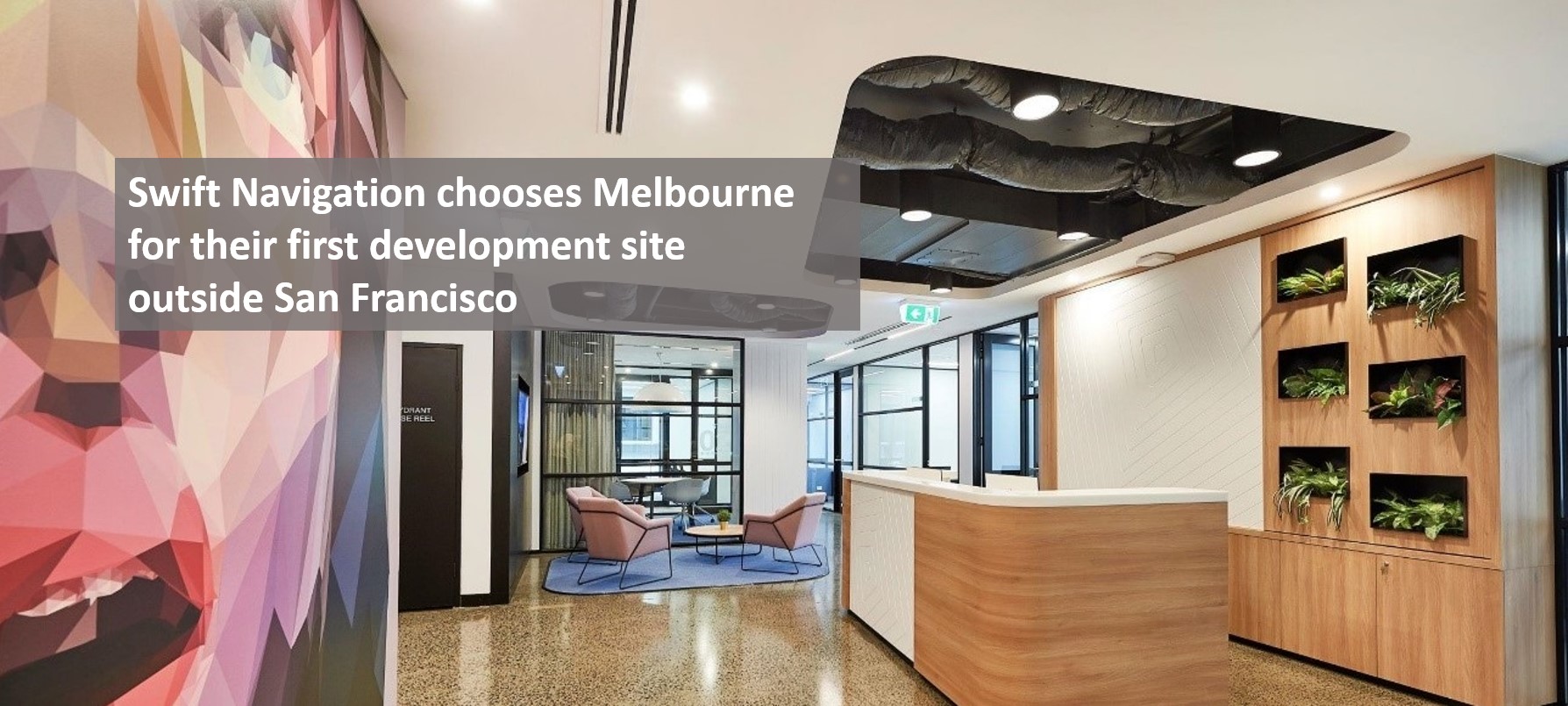 Swift's new Melbourne Office - the first outside their home base in San Francisco
Grant Hausler, Manager of Swift Australia, said Melbourne was a compelling destination for the company when it was looking to establish its first operational site outside their home base in San Francisco.
Melbourne ticked a lot of boxes for us – it has a growing pool of tech talent, it rates high on liveability and has a strong university ecosystem. We will harness the local tech talent by recruiting experienced software engineers, computer scientists and GNSS specialists, collaborating with universities and partnering with our peers.

Grant Hausler
Manager, Swift Australia
The time zone difference between Melbourne and San Francisco offers an additional benefit to the company.
The different time zones will also help us to maximise ongoing research and development and will enable us to continually monitor and manage some of our key products and services.

Grant Hausler
Manager, Swift Australia
Founded in 2012, Swift builds high precision GNSS technology for a range of industries and applications, including autonomous vehicles, precision agriculture, unmanned aerial vehicles, robotics, surveying and space.
Swift is the latest tech company to invest in Victoria, following in the footsteps of Square, Splunk, Mavenlink and Wrike.
The arrival of Swift further reinforces Melbourne's position as Australia's top tech city which was recently acknowledged in Savills Research Tech Cities in Motion report.
The tech sector in Melbourne employs 85,000 people in around 8,000 companies and generates approximately A$35 billion annually.
For more information about why tech companies like Swift Navigation are choosing Melbourne, visit http://techcity.melbourne/