A $35bn contract to design, build and support nine new frigates for the Royal Australian Navy will provide Victoria with a windfall of opportunity.
BAE Systems have recently been selected as the Australian Government's preferred tenderer to deliver nine Future Frigates for the Royal Australian Navy. And that is great news for naval shipbuilding in Victoria.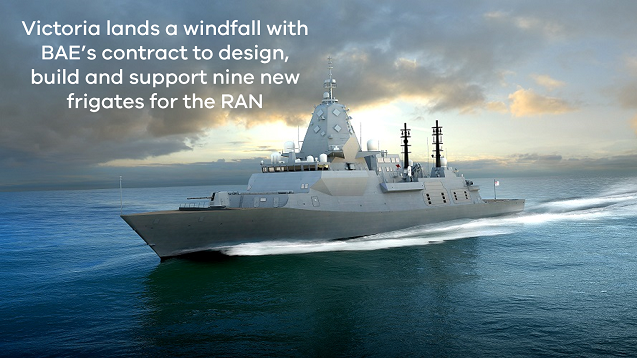 The contract for the design, build and support of the ships is expected to be in the region of A$35bn. While the vessels will be built in South Australia, the project will create and sustain at least 5,000 jobs across most states in Australia and will provide opportunities for 163 companies here in Victoria.
Victoria has an extensive history in naval shipbuilding, with Victorians having designed and built Anzac-class frigates. Victoria's defence sector is worth $8 billion to the local economy every year and is made up of about 20,000 workers and more than 400 businesses.
BAE Systems Australia also conducted the fit-out of the Landing Helicopter Dock ships and constructed modules for the Air Warfare Destroyers here in Victoria, and has a significant presence in Williamstown and Richmond.
Construction of the Global Combat Ship – Australia is expected to make a significant contribution to the nation's economy, creating thousands of jobs, supporting new industries and boosting the national supply chain for decades to come. The Global Combat Ship - Australia will help protect our shipping lanes and regional trade routes, serve humanitarian missions and provide the nation with a formidable naval capability.

Gabby Costigan
Chief Executive, BAE Systems Australia