Governor of Victoria, the Honourable Linda Dessau AC, is taking a ride in one of the world's first hydrogen fuel vehicles – the Toyota Mirai2.
The Mirai has been sold in markets in Japan and US for the past seven years and is now being introduced to Australia.
The Governor also met with the Consul General of Japan, Mr Junji Shimada, and Invest Victoria representatives Daniel Bisignano and Liam Eldon.
The State has strong credentials in hydrogen, with the world's largest hydrogen export demonstration project – the Hydrogen Energy Supply Chain Pilot Project – recently kicking off.
In collaboration with the CSIRO, Toyota Australia recently launched Victoria's first commercial-grade permanent hydrogen production, storage and refuelling facility in Melbourne's west.
The Victorian Government's Renewable Hydrogen Industry Development Plan will further advance the development of the renewable hydrogen sector and the potentially game-changing energy technology.
The Victorian Hydrogen Hubs at Monash and Swinburne universities form a part of this plan, established to explore new hydrogen technologies, including clean energy vehicles and hydrogen storage containers.
The Government's Climate Change Strategy will also help transition Victoria to a clean energy economy, boasting a $100 million package to accelerate the uptake of zero emission vehicles (ZEVs).
This includes a $46 million subsidy program to encourage more people to buy ZEVs, $15 million funding to accelerate the transition of government and commercial fleets to ZEVs and $20 million to green our public bus network.
To explore opportunities for investing in Victoria's hydrogen industry, contact us.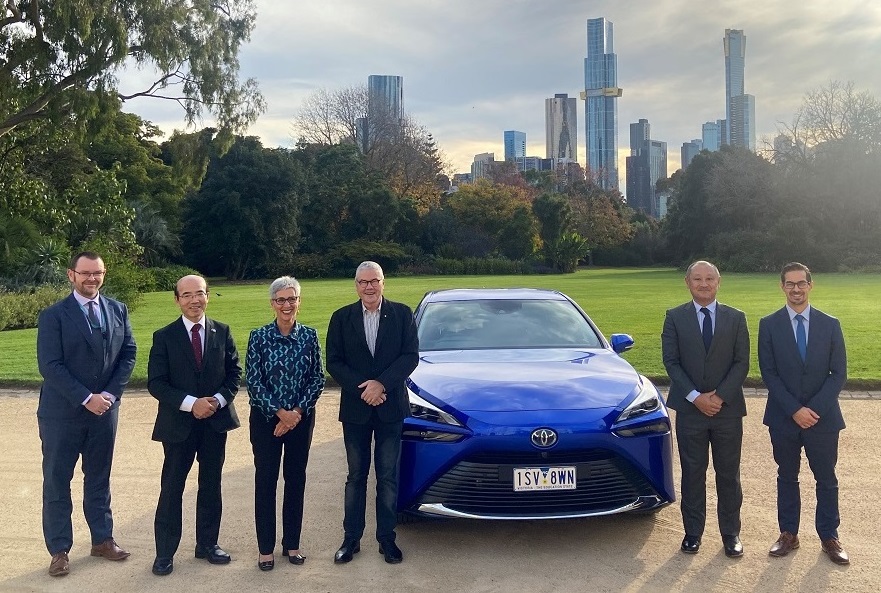 Image (left to right): Matthew Macleod, Manager - Future Technologies and Mobility, Advanced Planning Group Toyota Motor Corporation Australia, Junji Shimada - Consul General of Japan, Honourable Linda Dessau AC - Governor of Victoria, Ms Dessau's husband - Mr Anthony Howard AM QC, Takuo Muto - Director/Chief Coordinating Executive, Toyota Motor Corporation Australia, Daniel Bisignano - Acting Executive Director Investment Services, Invest Victoria