A research lab at Melbourne's La Trobe University is the first in Australia to receive a rare global sustainability certification.
The new certification from My Green Lab puts the research facility on a par with similar facilities at Trinity College in Dublin and the Department of Agriculture in Colorado, America.
The upgraded Hill Lab at the university creates opportunities for investors, providing a "sustainable connection" to research outcomes.
The La Trobe lab was assessed on a range of benchmarks - including water use, material management, green chemistry, recycling and waste reduction, fume hoods, and energy use.
This followed a range of changes to make its operations more environmentally friendly, which took about a year to implement.
Australia's first My Green Lab-certified laboratory delivered:
Cuts to its electricity usage by changing practices, including turning off machines not in use and installing outlet timers, and the addition of LED lighting
Changes to experimental protocols to reduce or eliminate harmful chemicals
Water savings through low flow aerators on taps
Stations to recycle non-hazardous waste: soft plastic wrapping, styrofoam, hard plastics, and e-waste used in genomic testing
More energy-efficient heated metal bead baths instead of water baths for keeping samples warm in experiments
More energy efficient freezer and using one less freezer and fridge.
Lab Head, Professor Andy Hill said: "Scientists have been warning about climate change for decades, and researchers frequently make medical and technological discoveries that change our lives, yet the lab work behind these breakthroughs is often extremely energy intensive and creates a lot of waste."
The laboratory is located in La Trobe's Institute of Molecular Sciences, a state of-the-art facility where scientists from different disciplines work together and alongside industry partners in well equipped, shared workspaces. This allows researchers and industry to achieve outcomes that would be more difficult in traditional settings.
La Trobe University is on track to have net zero carbon emissions by 2029.
To collaborate with Melbourne's university and research sector – and gain access to world-leading talent – contact Invest Victoria.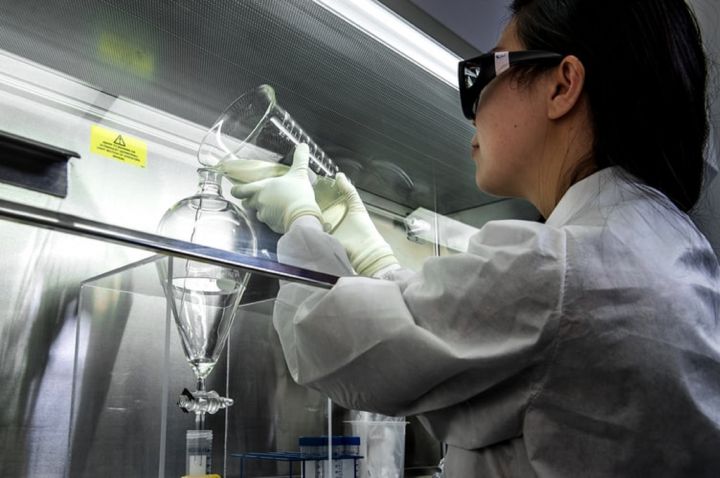 Image credit: La Trobe University