Melbourne's thriving fintech ecosystem has prompted JARVIS Invest to select Australia's tech capital for its ANZ headquarters.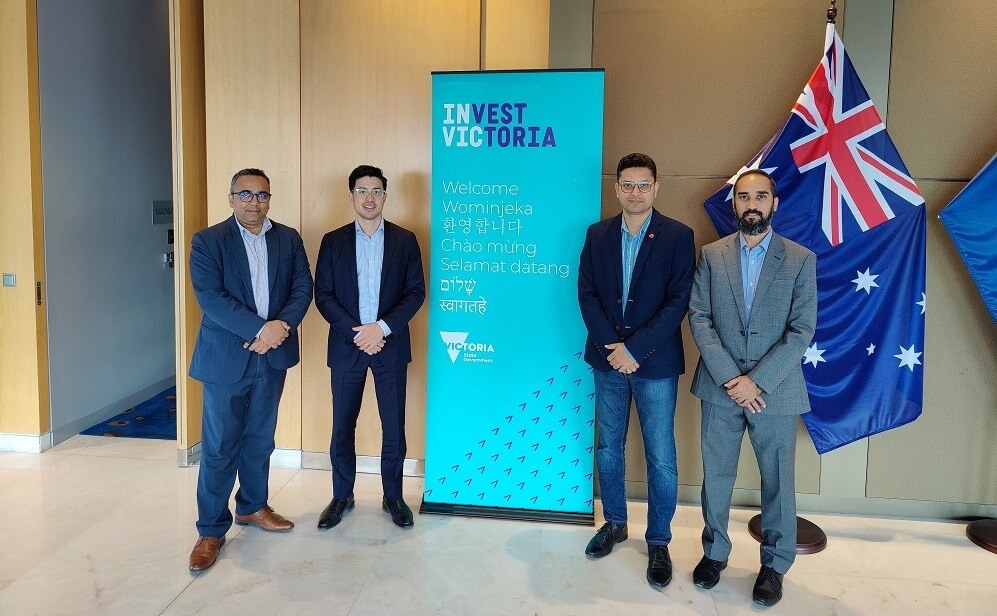 Image: (L - R) Nik Guruprasad and Evan Smyth, Invest Victoria, Sumit Chanda, CEO and Founder, and Shripad Kulkarni, Country Manager - Australia, Jarvis Invest
JARVIS Invest is India's first Artificial Intelligence (AI) based investment advisory startup offering an intelligent Portfolio Management tool created by a team of seasoned individuals in the field of investments, research and technology.
The state's world-class technology infrastructure, highly skilled talent pool, thriving financial services and education sectors, along with its culture of innovation were key factors in the company's move.
Founded in 2016, JARVIS uses proprietary risk management system that monitors client investments, manages the entire investment lifecycle and provides real-time advisory to its clients.
AI is already disrupting how businesses are done, and we believe there will be economic opportunities that will flow from AI in the years to come.

Sumit Chanda, Founder and CEO, JARVIS Invest
With the opening of the Melbourne office, we will focus to launch more innovative solutions for the investment industry across Australia as well as India and Dubai.

Sumit Chanda, Founder and CEO, JARVIS Invest
Melbourne is the tech capital of Australia and the establishment of Jarvis Invest shows strong confidence in our industry, workforce and culture of innovation.

Michelle Wade, Victoria's Commissioner to South Asia
Melbourne's tech ecosystem continues to create favourable conditions that allow businesses to thrive and grow, especially for companies like Jarvis, and we are here to help with their international expansion in Victoria.

Michelle Wade, Victoria's Commissioner to South Asia
Invest Victoria worked closely with JARVIS Invest throughout the company's investment journey, by:
Victoria is home to more than 2,950 startups, with the entire startup ecosystem (including startups, scaleups and unicorns) valued at $91 billion.
Read more about opportunities in Victoria's thriving tech sector.
To explore available investment opportunities contact us.