Monash National Employment and Innovation Cluster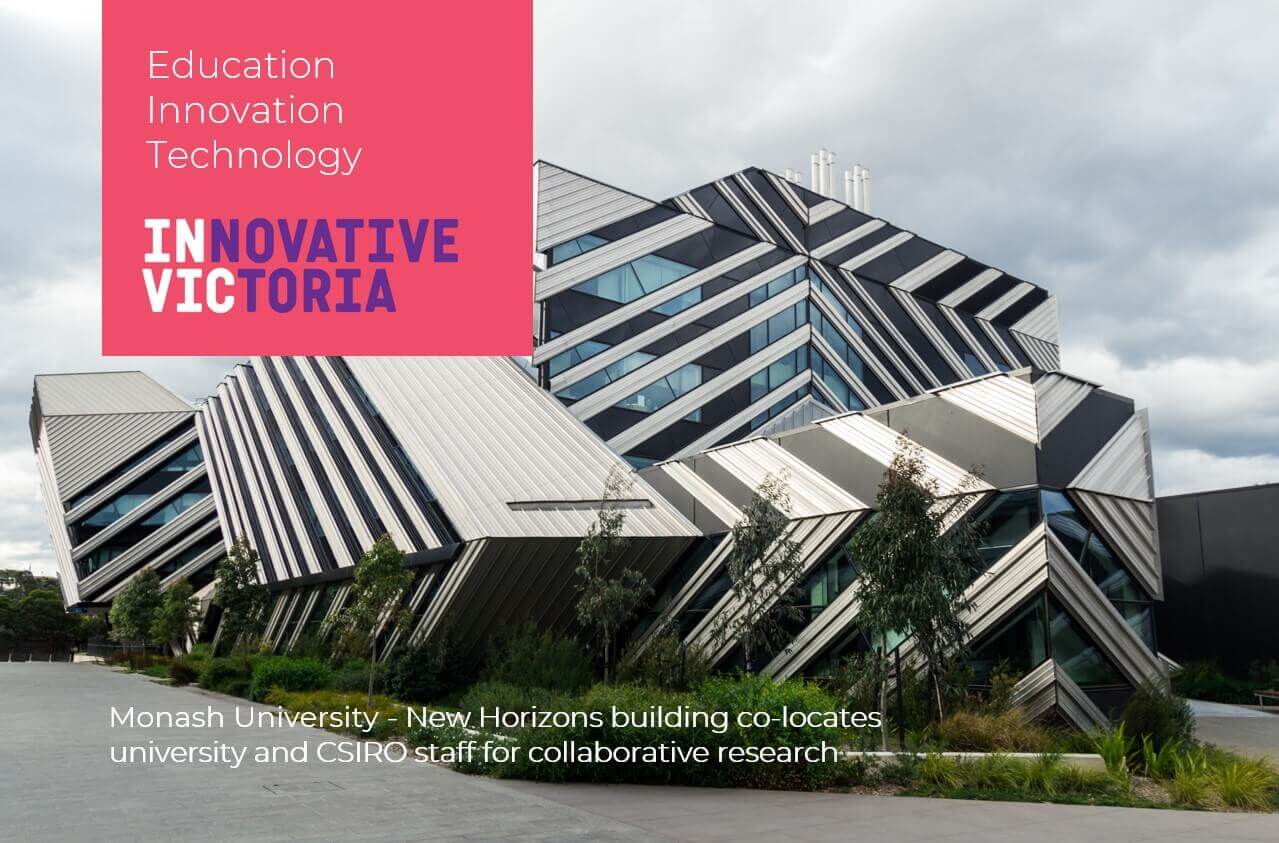 Monash, a place where education, innovation and technology come together
Monash National Employment and Innovation Cluster is a collection of key health, technology and business precincts, educational institutions and commercial operations. It is also home to nationally significant research and technology infrastructure.
It is characterised by a highly skilled workforce with outstanding capability in health, education, science, advanced manufacturing and research.
Modern and well-connected with state-of-the-art facilities, the Monash National Employment and Innovation Cluster is a globally competitive destination for the brightest minds and greatest innovators, attracting strategic and significant investment from educators, institutions and commercial operators.
We can connect you to key institutions in Monash to work with or help you find your ideal location within this business precinct.

Business leaders choose Monash for innovation
The Monash National Employment and Innovation Cluster boasts a range of national and international businesses that as a collective make this cluster a highly desirable location for investment.
They operate within a diverse range of industries including construction, mining, transport and logistics, technology, defence, manufacturing, pharmaceuticals, chemicals, packaging and food manufacturing.
Some of these businesses include Xenon Systems, Weir Minerals, Leidos Australia, Lockheed Martin , Auschem Pacific Group, BASF, PPG Industries, Dulux Group, VISY, Grifols Australia, Axtent Global, Goodman Fielder, McCormick Foods Australia, Mainfreight Transport and Chemcouriers.
We can connect you with the state-of-the-art institutions and infrastructure
Invest Victoria can assist you to establish valuable connections, research partnerships, and leverage existing state of the art infrastructure.
We can also help you explore opportunities to build and create your own independent infrastructure, research projects and commercial operations within this highly dynamic, transformative and innovative location.
Research institutes and infrastructure
Education institutions
Monash University - one of Australia's leading universities, ranking among the world's top 100 and is the largest university in Victoria by student numbers.
Monash Business School is among the top 1% of business schools in the world.
Institute of Childcare
Chisholm Institute of Tafe
Hospitals
Victorian Heart Hospital
Monash Health
Monash Medical Centre
Monash Children's Hospital
We can connect you to the brightest minds and innovators in health, science and education
With over 75,000 people working in the Monash National Employment and Innovation Cluster, it is one of the largest concentration of employees outside of the Melbourne CBD. Employment numbers are anticipated to double over the next 35 years.
Within this large cohort is an incredible array of capabilities across areas of health, education, science, advanced manufacturing and research. Specific capabilities include: data analytics, artificial intelligence and high performance computing; chemistry, engineering, science and technology solutions; information and defence technologies; nanomaterials, next generation energy technologies, mining and advanced manufacturing, astronomy and space, logistics and transport.
Monash National Employment and Innovation Cluster is located in South Eastern Victoria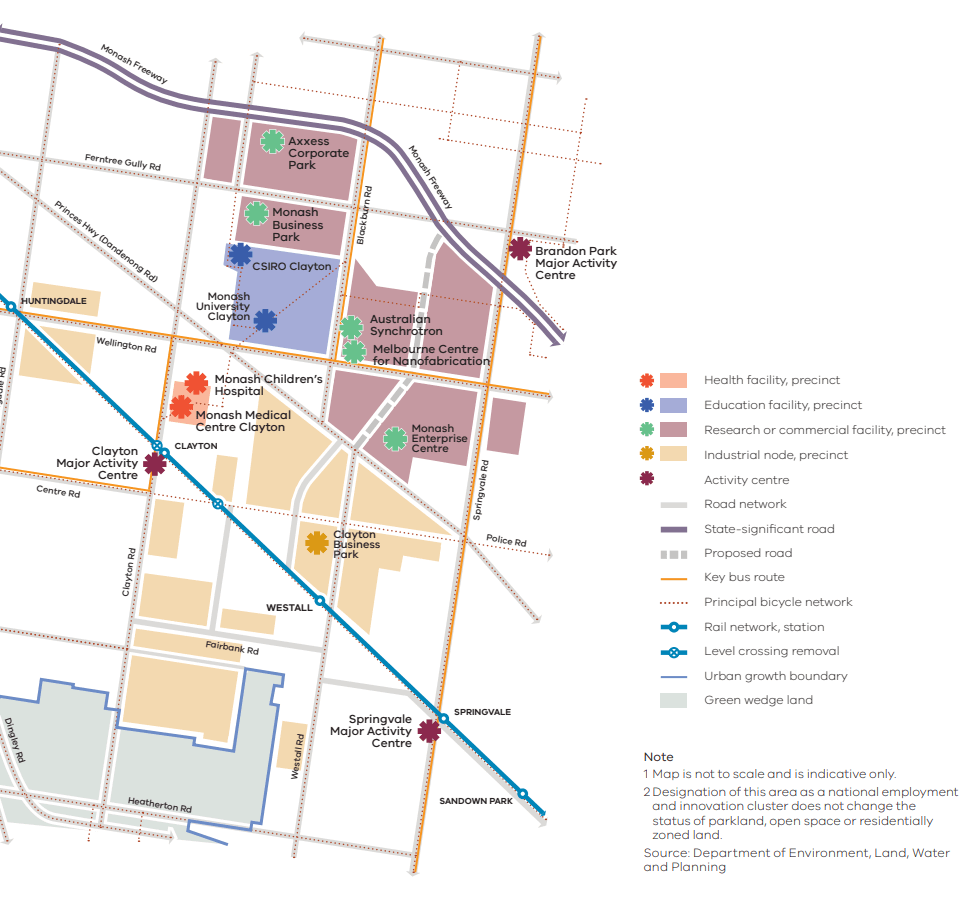 The Monash National Employment and Innovation Cluster is a middle suburban location 20km south-east of central Melbourne. Serviced by key arterial roads including Monash Freeway, Eastlink, and the Princess Highway, and main rail corridors – Pakenham and Cranbourne, ensures easy access and mobility for commercial operations. Key plans are in place to ensure the development of business and worker amenity.
Anchored within the Monash cluster are a range of precincts and business parks that you may like to explore to locate in.
Precincts
Monash Health Translation Precinct
Monash Technology Precinct
Monash University Business Precinct
Business Parks
Monash Business Park
Monash University Business Park
Nexus Business Park
Axxess Corporate Park
Ferntree Business Park
Clayton Business Park
We can help you with your next market entry project
If you are considering investing in Melbourne, we can help you scope the market opportunity in Melbourne/Australia and assist you with your business case development.
Working with us will allow you to be fully informed and limit the number of surprises associated with your new investment. Our staff are experienced and well connected and can introduce you to potential partners to help make your investment a success.
Contact us
UK and Europe
enquiries
contact Tim Dillon
Agent General, UK
Email Tim
US enquiries
contact Nigel Warren
Commissioner,
North America
Email Nigel
SE Asia enquires
contact Holly Butler
Interim Commissioner,
South East Asia
Email Holly
All other enquiries
contact Craig Harrison
Executive Director,
Melbourne
Email Craig
Or go to our All Offices page to find your nearest Invest Victorian representative.