Melbourne Connect Innovation Precinct

Become part of Australia's newest innovation precinct
Access world-class university expertise and talent, start-ups, SMEs, government and industry, right in the heart of Melbourne.
Melbourne Connect is a purpose built innovation precinct being developed by the University of Melbourne in partnership with a consortium led by Lendlease. The people, place and programs at Melbourne Connect are curated to unlock digitally driven, data enabled and socially responsible solutions to our most pressing future challenges.
Melbourne Connect will be a digital and data science powerhouse. It will locate over 3,000 knowledge workers from corporate innovation leaders, government, social ventures, start-ups and SMEs alongside diverse digitally focused university expertise, creatives, and graduate talent.
Join innovation leaders already committed to the precinct
Melbourne Connect will be home to the Telstra Creator Space a prototyping facility and maker space, Science Gallery Melbourne and Melbourne Entrepreneurial Centre. It features extensive meeting, events and business lounge spaces and is supported by concierge and partnering services.
The Victorian government has committed a $15.2 million package to help establish:
Zero Emissions Energy Lab - a place where students, researchers and start-ups can to develop cheap, clean energy products including vehicles, energy storage and distribution
Digital Twin Data Visualisation Lab - a visual workspace for major infrastructure project collaboration,
Digital Health Validtron, which will replicate clinical and home environments for the development of medical devices
Opportunity Lab, which will allow industry and students to collaborate with small business on new technology solutions
Future of Work Lab which will research the implications of digital technologies for work and upskill women, Indigenous, CALD and LGBTQ+ Victorians in STEM

Co-located tenants and co-working space occupiers benefit from extensive opportunity for planned and serendipitous interaction, networking, talent development and recruitment, future technology insights, collaboration and showcasing.
Melbourne Connect can be an ideal and productive home and collaboration environment for your team.

Access expertise, education and research infrastructure from the University of Melbourne, Australia's top university
Melbourne Connect joins leading innovation precincts anchored by universities, such as Kendall Square and Cambridge USA, dubbed 'the most innovate square mile on the planet'.
At Melbourne Connect you will co-locate and collaborate with world-leaders in deep tech and digital futures research, a vibrant start-up community and established SMEs and corporates in:
Artificial intelligence: Data science, Natural Language Processing, Simulation Optimisation
Computer science: big data, cyber, distributed systems
Information systems: analytics and decision support
Autonomous systems, robotics and mobility
Human Computer Interaction
AI and Digital Ethics
Sustainable Infrastructure
Renewable energy
Communications
As part of Melbourne Connect you will be assisted in establishing valuable connections, research partnerships, showcasing your brand through thought leadership and events, and access emerging technology and talent.
NEWS: Melbourne Connect links industry with leading-edge researchers
Melbourne Connect is located within a cluster of innovation
Located at 700 Swanston Street, it is part of the University of Melbourne and is in the center of the Melbourne Biomedical Precinct.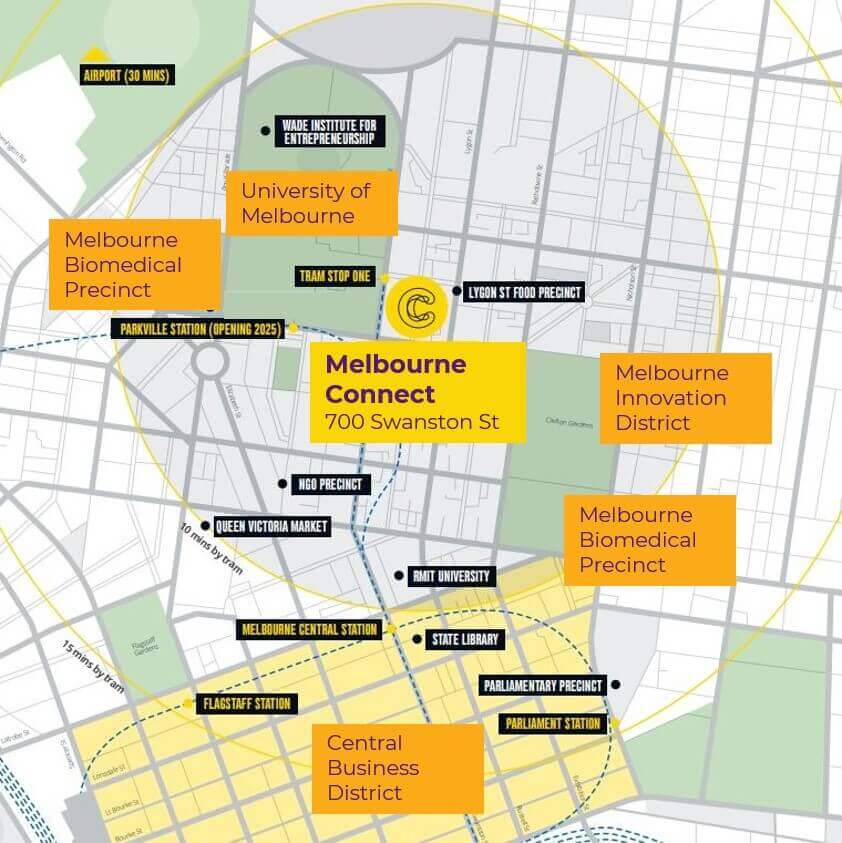 Invest Victoria and the University of Melbourne work together under a strategic partnership.
A Memorandum of Understanding (MOU) was recently signed by Invest Victoria and the University of Melbourne. The two organisations will work together to identify and attract new and strategic foreign direct investment with the potential to be located at priority precincts including Melbourne Connect and Fishermans Bend.
The partnership will seek to leverage each organisation's strong brand and combine Invest Victoria's access to global markets with the University's expertise in science and technology.
An early success story of the partnership was the announcement by Illumina to establish the Illumina – University of Melbourne Genomics Hub in Melbourne's Biomedical Precinct. The Hub will bring together the best of genomic expertise and technology in Australia, delivering better public health outcomes in research and diagnostics, in areas including infectious diseases such as the coronavirus.
Invest Victoria is striving to continue linking global industry leaders with our world class universities. If you would like more information about this opportunity please contact us.