3 MINUTE READ
Infosys reinvests in Melbourne through 'Living Labs'
The Reinvestment
(INDIA 2022)
Infosys, an international leader in next-generation digital services, expands its presence in Melbourne with the opening of its Melbourne Living Lab, part of a global network of 20 innovation facilities.
The Story
Infosys is a NYSE-listed global IT company, with 240,000 employees worldwide. Since opening its first office in Melbourne, Australia in 1999, Infosys has enjoyed 20 years of continuous growth, and, in 2022, has a business team exceeding 5,500 employees.

Over its 22 years in Australia, Infosys has constantly evolved in its role as a global innovator.

Ashok Mysore - Vice President & Regional Head, Infosys
In opening its new Living Lab in Melbourne, Infosys is taking its exploration of digital technologies and human experience to a new level. The lab uniquely features a stadium-style collaboration space alongside a graffiti wall featuring Melbourne icons such as Luna Park and Brighton's bathing boxes. The space will be used to accelerate innovative tech solutions and digital experiences, enabling users of the space to ideate, prototype and test new products for market.
The Melbourne Living Lab is housed in Infosys' new state-of-the-art office building, spanning five floors and over 9200 sqm at Two Melbourne Quarter in Docklands. The Lab will allow clients, partners, start-ups, local academia and government to leverage Infosys' digital ecosystem in a high collaboration environment.
Hear from Ashok Mysore on Infosys' investment journey - click to play video
Infosys is a partner of the Victorian Government's Digital Jobs program, enabling career pathways for experienced professionals from a variety of backgrounds to forge new careers in the digital sector.
Melbourne's world-leading educational universities and institutions enjoy a reputation for producing globally recognised graduates in digital engineering and tech, and this skill base has continued to benefit the company's innovations. To tap into the state's talent pipeline Infosys' graduate program, InStep, collaborates closely with Victorian universities including the University of Melbourne, Deakin University, Monash University and RMIT.
The company's continuing relationship with Melbourne is further cemented by the company's digital innovation partnership with the Australian Open (AO), now in its fourth year. The company utilises big data and analytics, cloud with virtual and augmented reality to optimise the AO experience for fans, tournament players and stakeholders.
Infosys emphasises the human perspective to explore advancing technology of cutting-edge global solutions including IoT, AI, AR, VR, 3D, machine learning, robotics, wearable tech, gestural interfaces and more. Their new Living Lab in Melbourne provides a playground of experimentation and collaboration to prepare these innovations for market, both in Australia and globally
How we helped
Invest Victoria provides visibility for the company, clarity about Australia's knowledge economy and invaluable access to business leaders and technology education institutions.

Ashok Mysore - Vice President & Regional Head, Infosys
Invest Victoria supported Infosys with a Memorandum of Understanding (MoU) that supports the company in their innovation activities and in embedding themselves in the local ecosystem. Invest Victoria is also key to providing visibility for Infosys locally and provides critical access to business leaders and education institutions.
Looking to the future
Infosys continues to grow, continually driving technology applications for human experiences and accelerating digital transformation for global and local clients. The objective is to provide the best consumer experience in the marketplace. Their reinvestment in Melbourne and Victoria is testament to the success and support they have enjoyed here.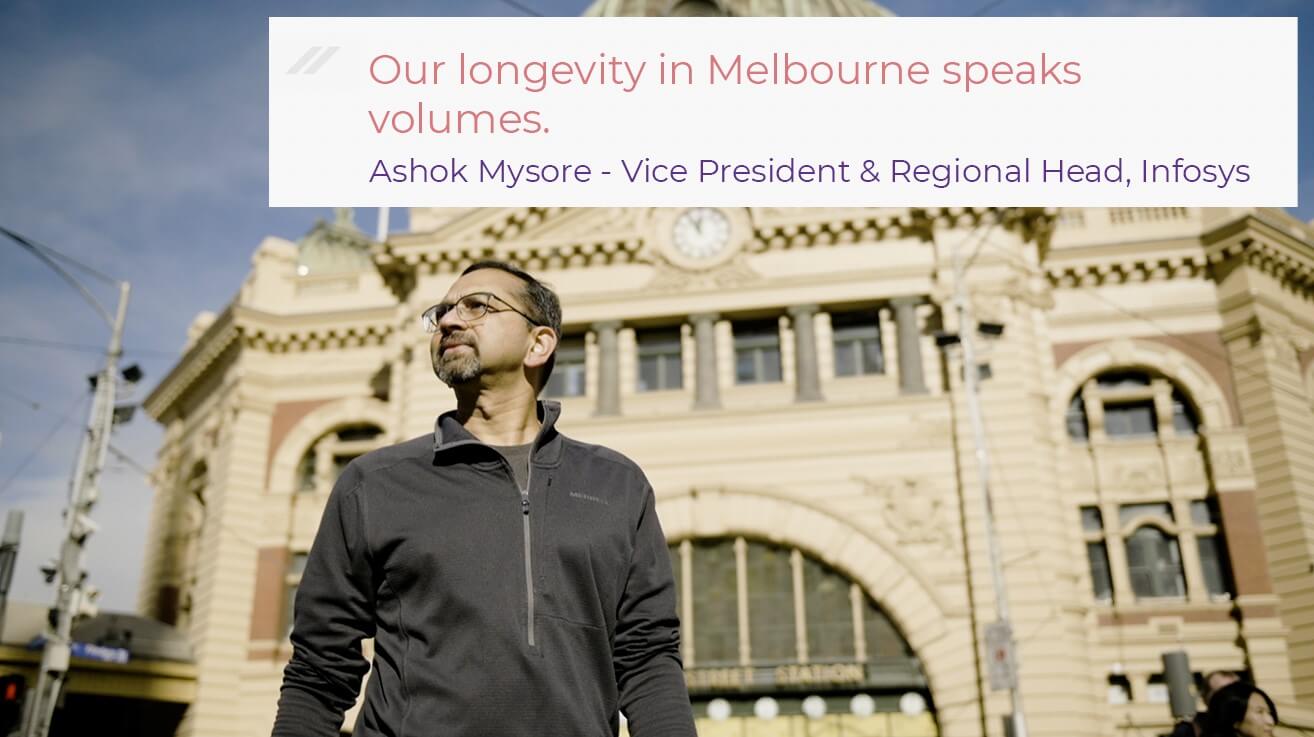 Find our more about investment opportunities in Software as a Service.
To discuss opportunities for investing in Victoria Contact Us.