3 MINUTE READ
Bukalapak taps Melbourne for talent
The Investment
(INDONESIA 2022)
Indonesia's first publicly listed tech unicorn, Bukalapak has chosen Melbourne to establish its first international base and technology hub.
The Story
In partnership with Victorian Government, Bukalapak will set up a technology hub in Melbourne to access Victoria's rich tech and innovation capabilities, tap into the state's high-quality pool of tech talent and explore partnership opportunities with world-class Victorian universities.
With a mission to digitise more than 21 million micro, small and medium enterprises (MSME) and improve access to products beyond Indonesia's largest cities, the technology hub will focus on Big Data, Internet of Things (IoT), AI and R&D activities.
Founded in Bandung, West Java in 2010, Bukalapak started up as an e-commerce marketplace for Indonesian SMEs. It quickly established a competitive advantage in tech capabilities and innovation and subsequently expanded its strategy to also target smaller (micro) traditional family-owned business. Now it aims to improve digital services for the entire Indonesian population of over 270 million people by focusing on digitising MSMEs across the country. Bukalapak has now evolved into an all-commerce platform with an omnichannel solution that improves the online and offline experience for customers.

After attracting investors such as Microsoft and UBS Group and growing to over 2000 Indonesian-based employees, they found their requirements for quality talent in technology and engineering were becoming higher and more complex, and that they would benefit from international expertise. So, the company decided to look for offshore talent to build on its success in developing innovative systems. Prior to the pandemic, this meant enticing top international talent to leave their home country, to join Bukalapak's local team, which often came at a cost premium. However, over the past few years, the pandemic has shown that highly skilled people, particularly in tech, can work remotely together from anywhere.
But for Bukalapak when recruiting, it doesn't just look for a strong technical component but also the right cultural fit. Due to the close working relationship offshore employees will have with their onshore employee base it looks for people who are not only good at what they do but also for those who align with their values. So in the end, Bukalapak chose Australia not only for its high density of technology talent and close proximity to its head office, but more importantly, for the people's understanding of the Indonesian context. All these factors are critical for successful assimilation between onshore and offshore talent.
Hear from Vincent Maquinad on Bukalapak's investment journey - click to play video
Bukalapak has entered a relationship with Victoria's most highly ranked university, the University of Melbourne, giving them access to skilled engineers and information technology specialists who will ultimately contribute to innovative product development and increasing the skills of both its Indonesian and Australian operations.
Melbourne's tech ecosystem is an ideal base for Bukalapak. It enables Indonesia's tech talent to work together with tech professionals from Australia and around the world.

Teddy Oetomo - President, Bukalapak
How we helped
Invest Victoria worked closely with Bukalapak throughout the company's investment journey, by making connections to potential partners and industry connections, as well as helping the company understand the market potential and dynamic business environment that exists in Victoria. It also provided information on Victoria's Digital Skills program.
Invest Victoria helped us immensely by introducing us to potential partners and industry leaders.

Vincent Maquinad - Head of People and Talent, Bukalapak
Looking to the future
Bukalapak's growth ambitions are focused through a simple plan for success - great talent delivering great services and constant innovation.
Their new technology hub in Melbourne will continue to grow Bukalapak's talent resources, allow for more innovation development and expanding their capabilities and servicing.
With its drive for continual growth and expansion of its innovative technology and service offerings, the company and its Melbourne base are set for an exciting future.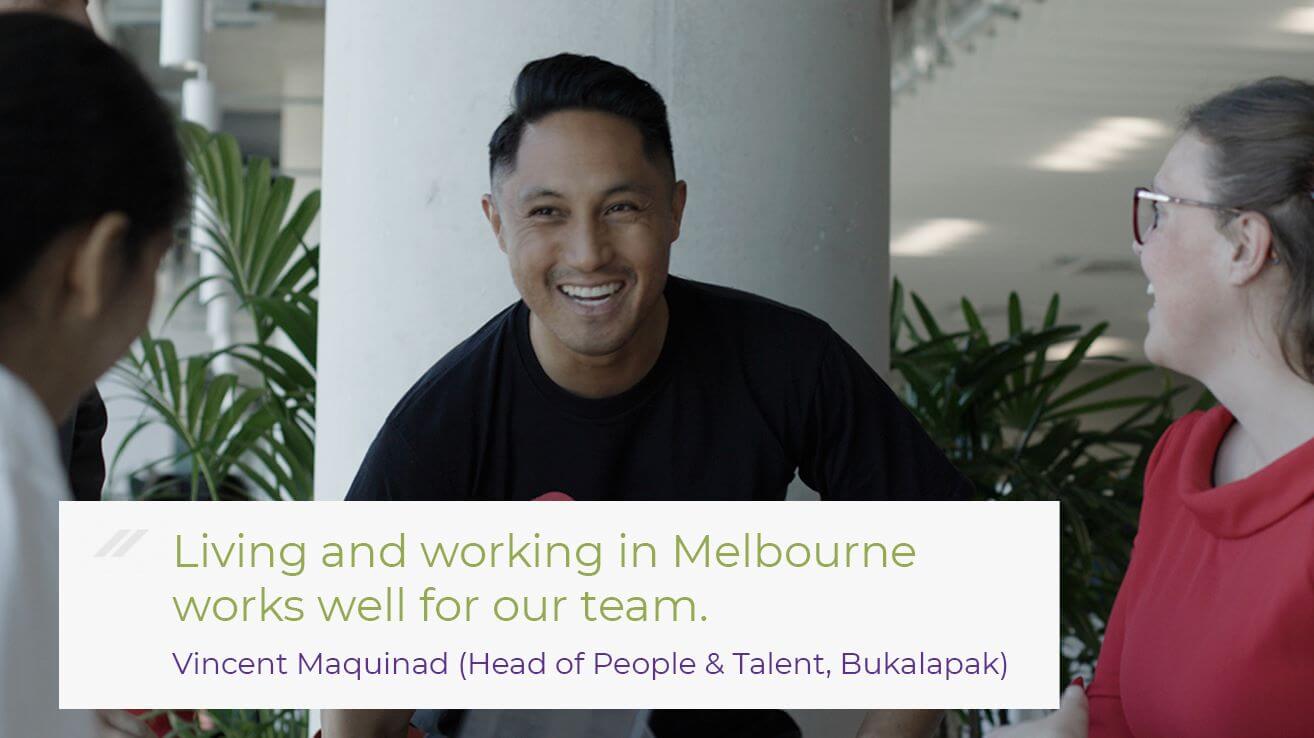 Find our more about investment opportunities in Research and Development.
To discuss opportunities for investing in Victoria Contact Us.