Invest Victoria Advisory Board Members
Invest Victoria Advisory Board Members
The Invest Victoria Advisory Board comprises of Ahmed Fahour (Chair), Dr Jackie Fairley, Professor Margaret Gardner AC and Ms Kerri Lee Sinclair.

Chair
Ahmed Fahour AO

Ahmed Fahour is an accomplished business leader with a diverse background in management, strategy, finance, and business transformation. He has held prominent positions at Boston Consulting Group (BCG), Citigroup, National Australia Bank (NAB), Australia Post, BCG Digital Services and Latitude Financial Services.
At BCG, Ahmed worked on corporate strategy, finance, and mergers and acquisitions. He later became the Managing Director of iFormation Group, a private equity joint venture. During his time at Citigroup, Ahmed served as a Chief Executive Officer of Citigroup Alternative Investments, managing $USD 80 billion in assets across various asset classes.
As Executive Director and Chief Executive Officer for NAB, Ahmed transformed the bank's culture and operations. He launched UBank, the bank's digital bank, and received recognition for the bank's achievements.
As the Managing Director and CEO of Australia Post, Ahmed led the development of a customer-focused business model. He expanded the communications business and ventured into new areas, including road freight and a multibillion-dollar parcel business called StarTrack. Ahmed also served on boards and held various positions.
Ahmed has also been special advisor and Non-Executive Chairman of BCG Digital Ventures and Managing Director and Chief Executive Officers of Latitude Financial Services, Australia's largest non-bank lender. Ahmed retired from Latitude in 2023.
Ahmed's notable recognitions include Officer of the Order of Australia (AO) for his contributions to business and multicultural relations.


Dr Jackie Fairley
Chief Executive Officer, Starpharma Holdings;
BSc, BVSc (Hons), MBA, GAICD, FTSE
Dr Fairley has more than 30 years of experience in the pharmaceutical and biotechnology industries working in senior management roles with several ASX listed companies including Starpharma, CSL, and Faulding (now part of Pfizer).
Dr Fairley is currently Chief Executive Officer of ASX 300 company Starpharma Holdings Ltd. Under her leadership Starpharma has developed and achieved multiple international regulatory approvals for two novel healthcare products (VivaGel® BV and the VivaGel® antiviral condom) and signed licences in 160 countries. The company has also developed several valuable commercial applications for Starpharma's proprietary polymer technology and signed multiple commercial deals with leading global companies including Astra Zeneca, Ansell, Aspen, Mundipharma, Italfarmaco, Okamoto Industries Inc. and Agrium Inc.

In addition to her role at Starpharma, Dr Fairley has been a non-executive Director of listed investment company Mirrabooka Investments Ltd and the Melbourne Business School. She is also a member of the Carnegie Innovation Fund Investment Committee and a past member of the Commonwealth Science Council, Biotechnology Advisory Committee and Pharmaceutical Industry Working Groups.
Dr Fairley holds first class honours degrees in Science and Veterinary Science from the University of Melbourne. She also has an MBA from the Melbourne Business School where she was the recipient of the prestigious Clemenger Medal. Dr Fairley is also a Graduate of the Australian Institute of Company Directors and a Fellow of the Australian Academy of Technology and Engineering (ATSE).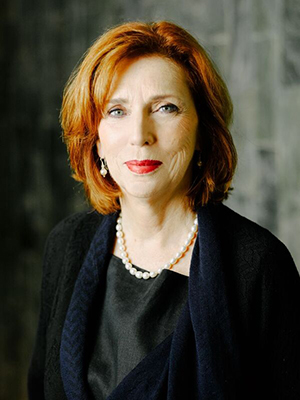 Professor Margaret Gardner AC
Professor Margaret Gardner became President and Vice-Chancellor of Monash University on September 1, 2014.
Prior to joining Monash, Professor Gardner was Vice-Chancellor and President of RMIT from April 2005 until August 2014. She has extensive academic experience, having held various leadership positions in Australian universities throughout her career, including at the University of Queensland and Griffith University.
She attained a first class honours degree in Economics and a PhD from the University of Sydney. In 1988, she was a Fulbright Postdoctoral Fellow spending time at the Massachusetts Institute of Technology, Cornell University, and the University of California, Berkeley. In 2018, she was elected a Fellow of the Academy of the Social Sciences in Australia.
Professor Gardner is a Director of the Group of Eight Universities. She is also a Director of Infrastructure Victoria and the Australia and New Zealand School of Government (ANZSOG).
Professor Gardner has previously been Chair of Universities Australia and Museum Victoria and chaired the Strategic Advisory Committee and the Expert Panel of the Office of Learning and Teaching (Federal Government Department of Education and Training). She has also been a member of various other boards and committees, including the Australian-American Fulbright Commission, the ANZAC Centenary Advisory Board and the International Education Advisory Committee, which led to the Chaney Report.
In 2007, Professor Gardner was made an Officer of the Order of Australia in recognition of service to tertiary education, particularly in the areas of university governance and gender equity, and to industrial relations in Queensland. In 2020, Professor Gardner was awarded a Companion of the Order of Australia in recognition of eminent service to tertiary education through leadership and innovation in teaching and learning, research and financial sustainability.

Ms Kerri Lee Sinclair (recently appointed)

Ms Kerri Lee Sinclair brings more than 20 years of management experience in the technology industry.
Ms Sinclair has previously worked for Aconex, the world's most widely-used cloud collaboration platform for construction, infrastructure, energy and resources projects, where she served as Senior Vice President of New Business.
A member of the Aconex leadership team, she was responsible for developing new products that tested emerging market strategies developed internally or through acquisition and integration. Her previous roles at Aconex included several key operational roles including GM of Asia & India. Before Aconex, Ms Sinclair was General Manager, Market Response (Strategy) at Telstra Wholesale and was named one of Australia's most powerful women in technology by Women's Agenda. Sinclair is also on the Board of Springboard Australia Accelerator program, which supports women-led companies in technology and life sciences.
Ms Sinclair is the Chief Investment Officer: Technology and Innovation for the Kin Group as well as non-executive roles with Versent, an Australian-born technology company, focused on architecting, building & operating cloud native applications, data streams, platforms and services and AgriDigital, a digital company using innovative solutions to improve agricultural supply chains.
Early last year Ms Sinclair was appointed to the Victorian Government's Innovation taskforce. The Innovation Taskforce is designed to unite start-ups, universities, businesses, and the investment community, and will help roll out the state's innovation agenda.