3 MINUTE READ
SVG Ventures Thrive Fast-Tracks Agri-Tech in Melbourne
The Investment
(USA 2023)
SVG Ventures Thrive, an innovation and investment platform based in Silicon Valley, has established its ANZ headquarters and launched its innovation and investment platform in Melbourne to grow their footprint in the Asia Pacific region.
The Story
Founded in 2010 by John Hartnett, SVG Ventures Thrive has developed a global community of over 6,000 start-ups from 100 countries. The company collaborates with Fortune 500 corporations, farmers and entrepreneurs to advance the future of food and agriculture. With the launch of SVG Ventures Thrive Australia, the company aims to tap into the growing Australian agtech market, which is projected to become Australia's next $100 billion industry by 2030. Investors, farmers, and entrepreneurs recognise the importance of technolgy in safeguarding the community and businesses from recurring floods, fires, and droughts.

SVG's Michael Macolino at Agribio Michael Macolino with Invest Victoria Staff at Agribio
SVG Ventures Thrive recognized the potential of the Australian agri-food tech sector and decided to make a substantial investment in the region to leverage the local ecosystem to support agtech start-ups and foster innovation. The investment includes various initiatives such as a flagship accelerator program; a corporate investment program; an SVG Ventures Australia Fund; and an ecosystem integration component with an annual investment summit. The platform provides an avenue for farmers to access cutting-edge technology and for start-ups to showcase their products and solutions on a global scale.
Hear from Michael Macolino on their investment journey - click to play video
Key factors in SVG Ventures Thrive choosing Melbourne were a combination of Melbourne being Australia's largest agricultural ecosystem and an increased local focus on agrifood innovation. Melbourne represents 29% of Australia's total agricultural produce by value and offers well-developed research capabilities in its universities and institutions that are ripe for innovative collaborations with agtech startups. Michael Macolino, Managing Director of SVG Ventures Thrive (APAC), highlighted Melbourne's diverse agricultural industry, world-class research, and vibrant start-up ecosystem as key reasons for choosing the city as their base.
How we helped
We have a collaborative approach, and everyone is accessable, so it's easy to build up the network you need here in Melbourne and regional Victoria.

Michael Macolino, Managing Director of SVG (APAC)
Invest Victoria played a pivotal role in facilitating SVG Ventures Thrive's establishment in Melbourne. Through their assistance, SVG Ventures Thrive successfully established a Memorandum of Understanding with the State Government of Victoria to strengthen their connections within the local ecosystem. Invest Victoria's support enabled the company to swiftly commence operations, including launching their APAC Accelerator program and engaging with influential Australian partners like Dairy Australia and La Trobe University, setting the stage for fruitful collaborations and meaningful contributions to the local agtech landscape.
Looking to the future
With its headquarters and hub established in Melbourne, SVG Ventures Thrive will be well-positioned to accelerate the growth of promising Australian start-ups and drive technological advancements in the APAC region. The company's strategic plan aims to foster collaboration between Silicon Valley investors, start-ups, and corporate partners to strengthen innovation and development within Australia's agtech sector. With Melbourne as their base, SVG is well-positioned to tap into the vast potential for scaling and growth in the APAC region.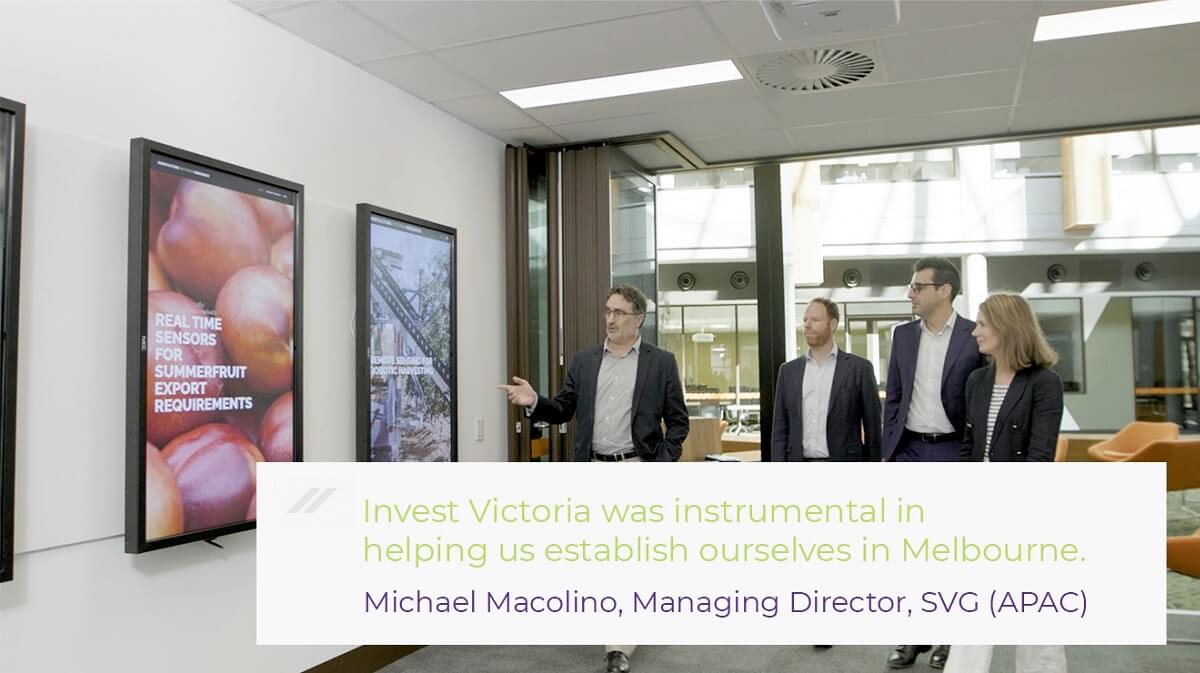 Learn more about Agtech investment opportunities in Melbourne.
To discuss opportunities for investing in Victoria Contact us.