3 MINUTE READ
SunGreenH2 revolutionises zero emissions in Melbourne
The Investment
(SINGAPORE 2023)
Cutting edge clean energy startup SunGreenH2, has strategically positioned its R&D and manufacturing operations in Melbourne.
The Story
SunGreenH2 is at the forefront of revolutionising green hydrogen production. By incorporating advanced nanostructured materials into electrolyser components, their high-performance hardware and complementary technology enables affordable, scalable, on-site green hydrogen production for various applications, including industry, transport, energy storage, and power-to-X.
Despite launching amidst the challenging environment of the COVID pandemic in 2020, the company completed development of its prototype the same year. SunGreenH2 successfully secured two rounds of funding that helped to support this development.
As an advanced manufacturer of clean energy technology, SunGreenH2 aims to continually innovate its product offering through research and development to create efficiencies to solve real world problems. To do so, they needed to set up in a location that would give them access to the infrastructure and skills they needed.

SunGreenH2 headoffice and R&D facility
Their decision to establish a base in Melbourne was driven by several key factors, including the city's focus on innovation, its highly skilled workforce, a robust manufacturing ecosystem and a government that supports clean energy.
Melbourne is a world-leading launching ground for research and development. It is the world's third most innovative city and offers multi-sector research institutes and networks. On entering the market, the SunGreenH2 team was able to work out of the prestigious Melbourne Centre for Fabrication (MCN) at Monash University, where they were able to access industrial scale equipment enabling them to advance the development of their hydrogen technology. Their team continues to use the facilities there as needed.
With a cosmopolitan lifestyle attracting the brightest minds from around the globe, Melbourne is home to an innovative clean energy technology community and has a deep history of advanced manufacturing. Locating in Melbourne has enabled SunGreenH2 to employ highly skilled talent with the skills they need.
Hear from Talika Raj on SunGreenH2 's investment journey - click to play video
With Melbourne being the education state, we have been able to find the materials, chemicals, mechanical and metallurgical engineering talent we need.

Tulika Raj, CEO & Co-Founder, SunGreenH2
Further, the Victorian Government's commitment to reducing emissions and achieving net-zero targets by 2045 also aligns with SunGreenH2's vision of creating a sustainable future through renewable hydrogen.
How we helped
Invest Victoria was with us right from our inception.

Tulika Raj, CEO & Co-Founder, SunGreenH2
Invest Victoria highlighted potential opportunities for us to consider in our market entry.

Tulika Raj, CEO & Co-Founder, SunGreenH2
Working with staff in the Melbourne office, Invest Victoria highlighted potential opportunities for SunGreenH2 to consider in their market entry and provided crucial information regarding available R&D incentives in the region. Moreover, SunGreenH2's Chief Technology Officer successfully secured an Australian Global Talent Visa, enhancing the company's on-the-ground leadership and capability.
Invest Victoria also facilitated connections with various stakeholders in manufacturing and hydrogen, including influential local entities such as CSIRO, EPA Victoria, universities, venture capital firms, and professional services organisations. They proposed several potential sites across Victoria and ultimately, SunGreenH2 selected a location within proximity to the Clayton manufacturing precinct and hydrogen hub for their manufacturing and R&D facility, which is now operational.
By leveraging their proprietary platform technology, the company intends to enhance the efficiency and cost-effectiveness of electrolyser parts through nanotechnology advancements. As part of their expansion plan, SunGreenH2 is scaling up.
Looking to the future
According to Tulika Raj the strategic location of Melbourne is the perfect springboard from which to expand their R&D and manufacturing operations. It will enable them to scale up personnel and infrastructure and to set up a renewable hydrogen supply chain for the Australian and global markets.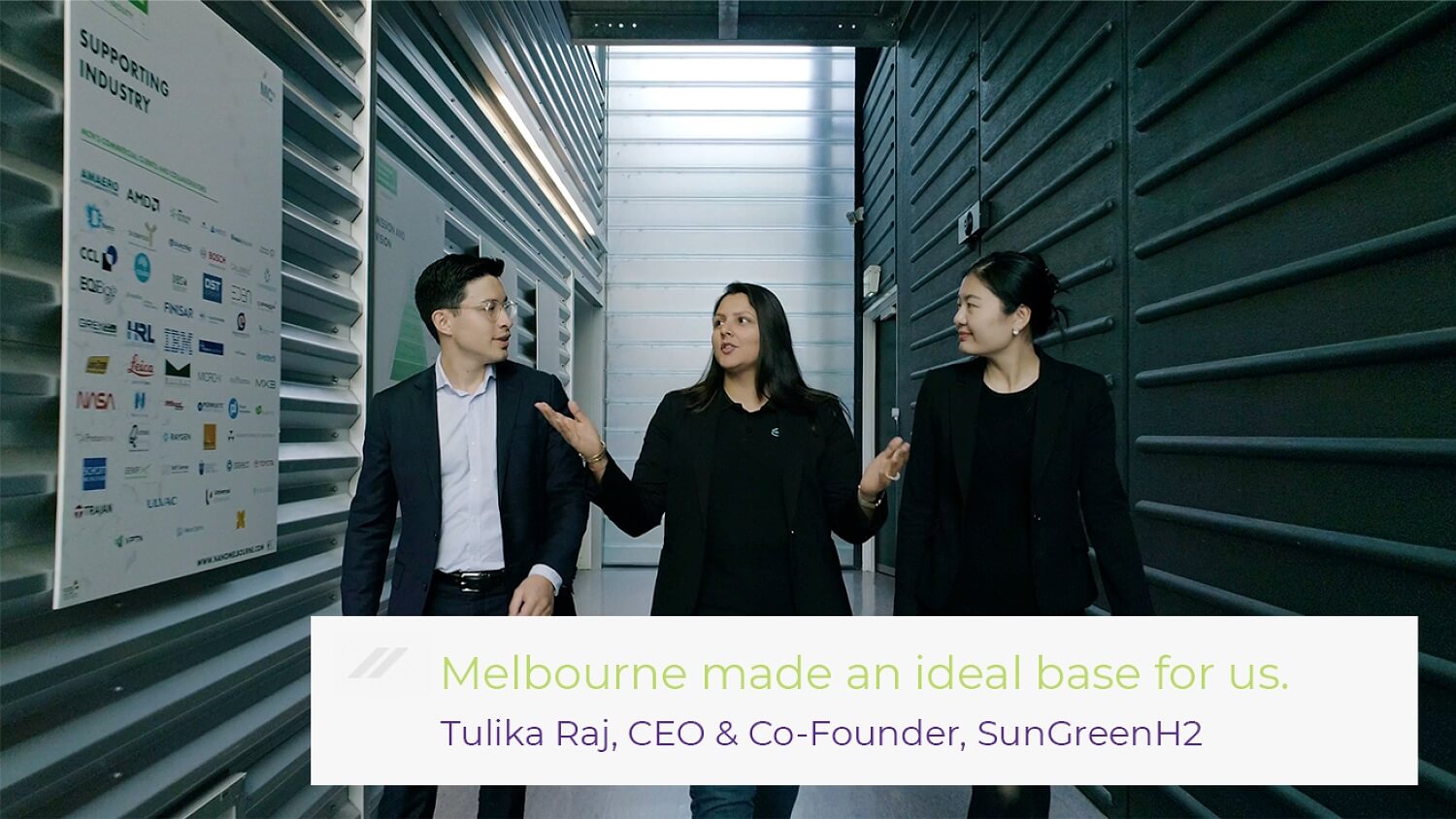 Find our more about Clean Energy investment opportunities in Melbourne.
To discuss opportunities for investing in Victoria Contact us.