2 MINUTE READ
Oncoshot scales clinical data in Melbourne
The Investment
(SINGAPORE 2022)
Singaporean healthtech leader, Oncoshot, has based its Australian headquarters in Melbourne, to leverage the city's world-leading cancer capability and hospital networks, making it the ideal location to support the company's international growth.
The Story
Driven by their passion to develop clinical solutions that can benefit large populations, medical oncologist, Huren Sivaraj, with data science engineer Ruslan Enikeev, founded Oncoshot in 2018. Their AI technology supports hospitals and healthcare systems by generating insights in real-time and enabling oncologists to identify cancer clinical trials more efficiently and effectively for patients.

Oncoshot's platform is built on data and insights, with a focus on leveraging AI technology to address the inefficiencies of cancer clinical trials. The system is designed to analyse large amounts of data across healthcare institutions and regional and national borders, while observing data protection regulations.
At Oncoshot, we believe in clinical solutions that can bring hope to people around the world.

Huren Sivaraj – CEO & Co-Founder, Oncoshot
For their business model to succeed, they need to scale. They needed the ability to take their platform to a very large number of cancer patients and there just wasn't enough in Singapore. Their research suggested that with its national health records system having been in existence for more than a decade, Australia was the next best geographical location. Then, within Australia, Melbourne looked attractive as it is the nation's leading hub for health and medical research, and has a strong ecosystem of leading cancer hospitals and talent pool of highly skilled clinicians, researchers, and technical talents.
Hear from Huren Sivarag on Oncoshot's investment journey - click to play video
Oncoshot has signed its first Australian partners, Novotech and Omico, two of the country's leading cancer research networks. These collaborations will create opportunities for patients in both partners' networks of hospitals across Australia to participate in global trials.
How we helped
Invest Victoria played a significant role in facilitating Oncoshot's entry into Melbourne, introducing them to key medical partners and experts, advising them on potential issues to address in their market entry strategy, and hosting them at events and networking events.
Oncoshot's CEO, Huren Sivaraj continues to highlight the importance of scale and clinical solutions that can be tailored to individuals leveraging data and insights. The quality of Oncoshot's international research partners is also crucial to growing the model, which will help to modernise clinical trial services internationally. Their new base in Melbourne will facilitate more quality collaborations that have the potential to make an enormous difference to clinical outcomes.
Victoria is an ideal partner to support Oncoshot's growth within Australia.

Huren Sivaraj – CEO & Co-Founder, Oncoshot
Looking to the future
Oncoshot has expanded its operations to Australia and India since its inception in Singapore and is now working with new and expanding CRO partners from their Melbourne base. This move has allowed them to match populations across vital clinical trial markets in the APAC region, presenting significant opportunities to enhance clinical outcomes, while expanding its global footprint.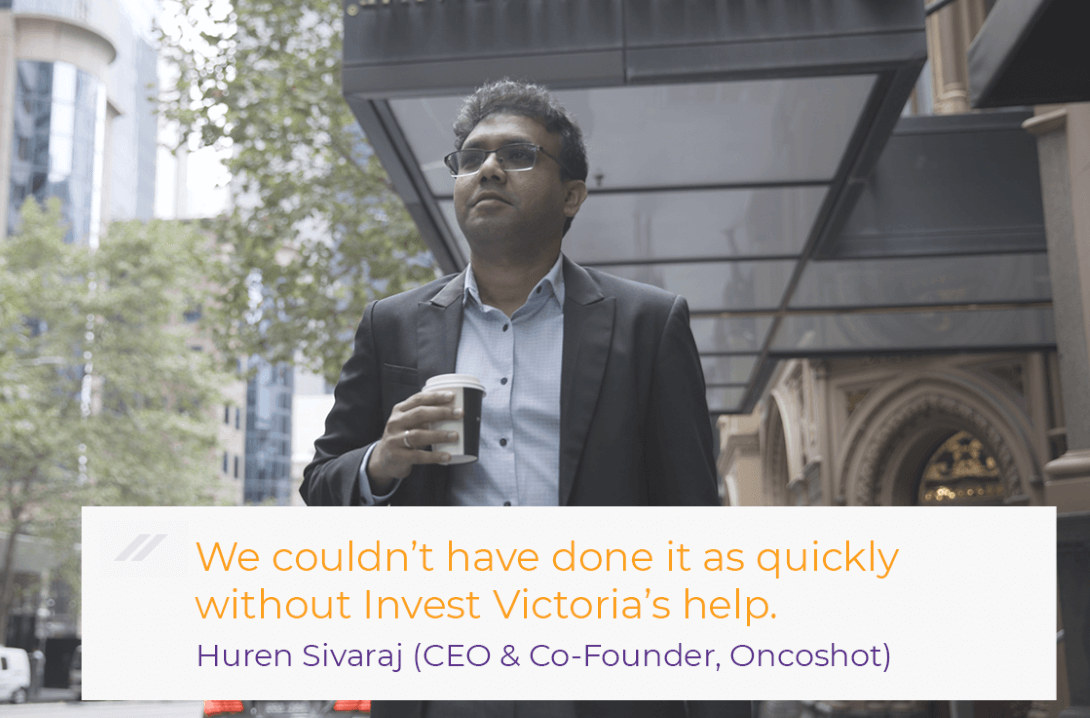 Find our more about investment opportunities in Digital Health.
To discuss opportunities for investing in Victoria Contact Us.