2 MINUTE READ
Tech unicorn Fractal expands into Melbourne
The Expansion
(INDIA, USA, 2023)
Fractal Analytics (Fractal) is scaling its operations in Melbourne to service clients in data, Artificial Intelligence Machine Learning (AIML), cloud tech and analytics with support from Invest Victoria.
The Story
Fractal, a multinational artificial intelligence (AI) company founded in 2000, has established itself as a leader in providing cutting-edge AI and analytics services across a broad range of sectors, including banking, financial services, insurance, telecommuications, consumer packaged goods, healthcare, life sciences and retail sectors.
Dual headquartered in Mumbai and New York, Fractal services fortune 500 clients around the world from its global network in India, United States, the United Kingdom, and fifteen other locations.
With recent funding of US$360 million, Fractal achieved unicorn status and has solidified its position as a trusted partner for industry giants such as Google and Wells Fargo.

In response to increased demand for design, data, AI and analytics services in Australia, Fractal decided to scale its operations and open an office in Melbourne, following a growing trend of Asian unicorns looking to Australia to establish or expand their tech initiatives in the region.
Hear from Rohit Joshi on Fractal's investment journey - click to play video
Melbourne, known for its thriving tech ecosystem, strong pool of tech professionals and renowned universities that produce quality graduates with skills in data, AI and analytics, emerged as an ideal choice for Fractal's expansion. Melbourne is also well-known for its liveability. Fractals' Regional Head, Rohit Joshi, sited Melbourne's vibrant cultural scene and less congested environment will make it easier for them to attract and retain tech professionals.
How we helped
Invest Victoria facilitated Fractal's entry into the Melbourne market and played a crucial role in connecting the company with the local talent ecosystem and enabling a seamless entry.
Invest Victoria has been helpful in connecting us into the local talent ecosystem.

Rohit Joshi, Regional Head, Fractal Analytics
Invest Victoria introduced Fractal to the Victorian Government's Digital Jobs Program, which proved to be well aligned with Fractal's internal training regime for new recruits. The program's course framework provides a solid foundation that complements the company's own rigorous training standards, ensuring a seamless integration of new hires into the company.
Furthermore, Fractal will work closely with universities in Melbourne to cultivate a future pipeline of technical talent that aligns with their specific needs. This proactive approach in engaging with universities not only supports Fractal's talent acquisition strategy but also fosters meaningful collaborations with academic institutions to advance research and innovation.
The strategy we are pursuing here in Melbourne will better enable us to meet the growing demand of our clients in the region.

Rohit Joshi, Regional Head, Fractal Analytics
Looking to the future
Having experienced spectacular growth over the past four years, Fractal is well positioned for success in Melbourne and poised to make significant contributions to the company's growth in the APAC region.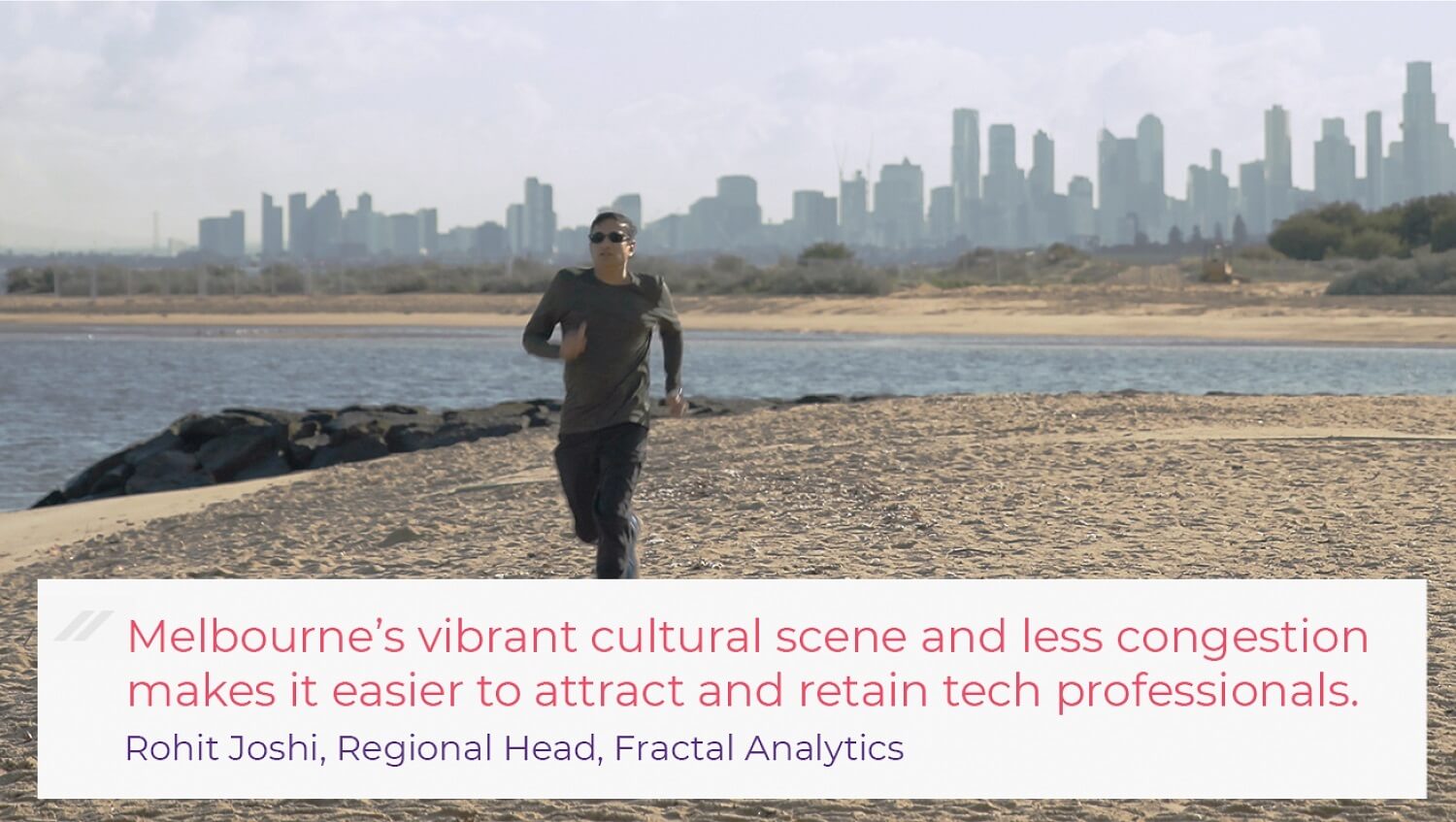 Learn more about Software as a Service investment opportunities in Melbourne.
Learn more about Artificial Intelligence investment opportunities in Melbourne.
To discuss opportunities for investing in Victoria Contact Us.