3 MINUTE READ
XRHealth virtualises healthcare in Melbourne
The Investment
(ISRAEL 2020)
XRHealth, a health technology company and the global leader in extended reality telehealth platform development, has collaborated with Invest Victoria to establish its Asia Pacific headquarters and fulfilment centre in Melbourne.
The Story
Founded in Israel in 2016, XRHealth expanded into the US, setting up a global headquarters in Boston, Massachusetts whilst retaining its research and development centre in Tel-Aviv, Israel.
XRhealth is the first FDA and TGA registered virtual reality (VR) medical device company and is the only VR health provider working in the telehealth space across physio, rehab, pain, cognitive and mental health care streams.
Using proprietary VR and augmented reality (AR) technology originating from flight simulation technology, XRHealth's offers a cutting-edge telehealth and remote monitoring service. The service collects and analyses data through artificial intelligence (AI) and cloud computing algorithms to allows clinicians to develop unique treatment plans and monitor patient progress, delivering a unique, remote healthcare model.

XRHealth VR Telehealth and Remote Monitoring Service
After starting up in Israel and successfully expanding into the USA, the company wanted to grow in the APAC region and began searching for the right geo-strategy and industry and government partners.
Once XRHealth decided to enter the Australian market, they needed to find a location from which to base themselves. They wanted to establish an entirely new model and scale locally, which required highly skilled staff that they could train to deliver the virtual sessions. They also needed to educate local consumers on the benefits of their new model.
Invest Victoria was involved early in XRHealth's Australian market entry journey, consulting on their strategic decision to base themselves in Melbourne and scale their service nationwide.
Hear from Esme Naidoo on their investment journey - click to play video
Esme Naidoo, General Manager XRHealth said "fundamental to Melbourne's appeal was its world class heath care system, large diverse population and its high consumer take up rate of technology."
Melbourne has a unique community of global health professionals that XRHealth could take advantage of. The city features one of the world's leading biomedical precincts, delivering outstanding patient care, cutting edge research, discoveries and training to some of the country's brightest minds.
A powerful acceleration of XRHealth's launch came in the form of a partnership with Bupa, Australia's largest health insurer, that offered customers the opportunity to participate in a trial of the company's technology for physiotherapy services. The success of the trial, which included unique data driven feedback received by clinicians during sessions to measure treatment outcomes, convinced Bupa to extend their partnership with XRHealth, further developing their local network.
The scaling of their local customer base from Melbourne, has prepared XRHealth for a bright future in Australia.
How we helped
Invest Victoria played a huge role in setting us up for success in Victoria.

Esme Naidoo - General Manager, XRHealth
Invest Victoria assisted XRHealth at the inception stage of the project, providing information on the local property market and connecting them with high-level clinicians, capable of taking on the therapeutic and technological aspects of the model.
XRHealth consulted extensively Invest Victoria in the set up and launch of their Melbourne base.
Looking to the future
With Australia's healthcare sector set to triple over the next decade, XRHealth's investment in its Melbourne base and operations sets them up for growth, not only in the local market but for the entire APAC region.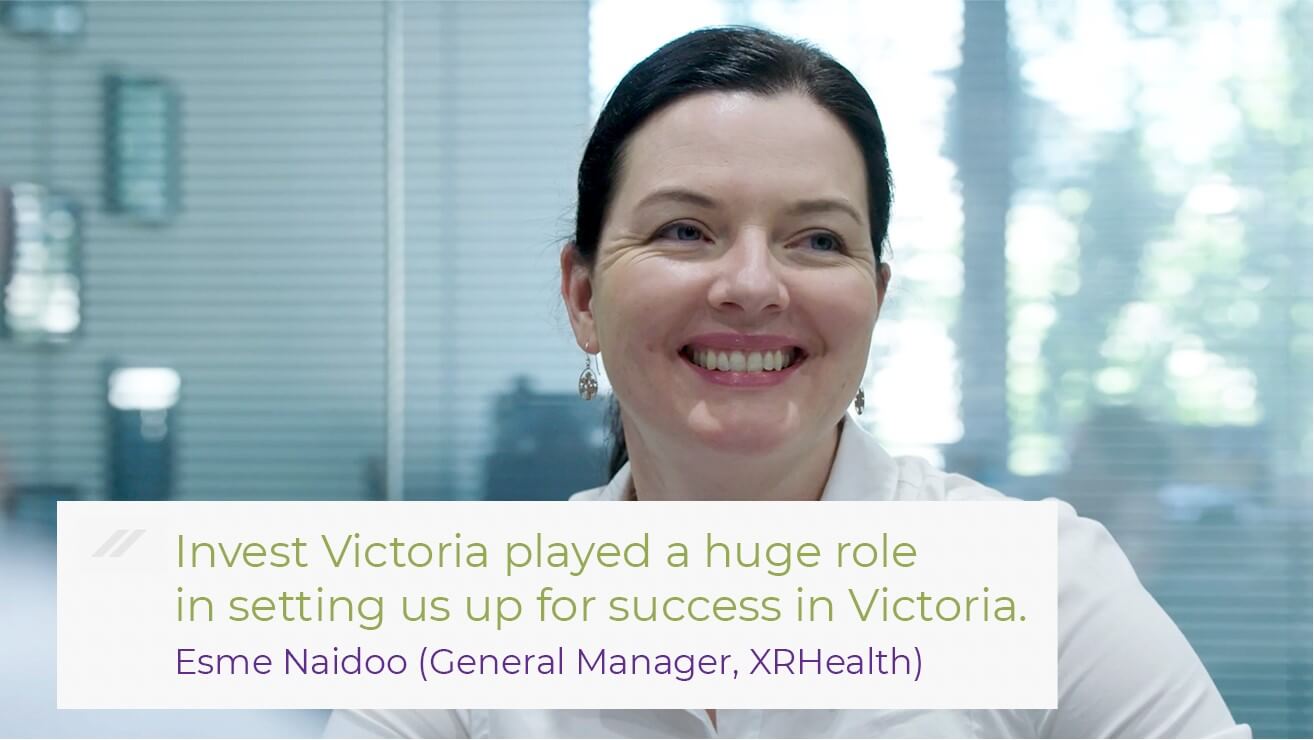 Find our more about investment opportunities in Digital Health.
To discuss opportunities for investing in Victoria Contact Us.