3 MINUTE READ
Genomics market leader Illumina sets up in Melbourne
(USA 2021)
The Investment
Illumina has partnered with the University of Melbourne to establish The Advanced Genomics Collaboration (TAGC) that will use next-generation genomics sequencing to deliver affordable, scalable healthcare outcomes, tailored to a patient's unique genetic code. Invest Victoria assisted in resourcing the $60 million facility.
The Story
Throughout its history, Illumina Inc, a world-leading US biotechnology group, has relentlessly focused on unlocking the power of the genome. Its innovative, array-based and sequencing solutions for DNA, RNA, and protein analysis serve as tools for disease research, drug development, and the development of molecular tests in the clinic. Illumina develops, manufactures, and markets integrated systems for the analysis of genetic variation and biological function.
Illumina's partnership with the University of Melbourne promises to be a game changer in research and application of genomics globally.
At the intersection of biology and technology, genomics is transforming everything from healthcare and sustainable agriculture to data storage. It has been integrated into clinical practice at a faster rate than almost any innovation in the history of medicine. By using genomics, Illumina is helping patients to be diagnosed quicker and more accurately and it is creating a path towards personalised medicine, where treatments can be customised to the unique genetic code of patients.

Simon Giuliano and Sean Grimmond at the University of Melbourne.
Genomics-driven personalised care presents an incredible opportunity to transform patient outcomes and create substantial efficiencies for the healthcare system.
Simon Giuliano, Commercial Lead, Director of Sales of ANZ for Illumina, explains "We saw an opportunity here, in Melbourne, to collaborate and find new innovative ways to tap into the power of the genome. Our goal in coming to Melbourne was to find the best thinkers in the field, the most accomplished genomics researchers and scientists and the next great idea."
Hear from Sean Grimmond on their investment journey - click to play video
Their partnership with the University of Melbourne will allow them to access Australia's most talented personnel in the field of genomics and to better collaborate with Melbourne's world-class Biomedical Precinct through the development of three core enabling platforms in clinical genomics, bioinformatics, and health economics.
Illumina is already benefiting from the global knowledge and research leadership of sector experts from the Centre of Cancer Research and the Doherty Institute, Australia's flagship research facility into COVID 19 and other pathogens.
The partnership has led to many cancer patients in Victoria already benefiting from real-time genomic testing. It means we are now able to address cancer cases with much more targeted solutions utilising each unique genetic code as a basis of diagnosis and therapeutic solutions.

Sean Grimmond - Director, University of Melbourne Centre for Cancer Research
Illumina next-generation sequencing has been on the frontline of the pandemic and holds the potential to revolutionise public health contact tracing and pandemic control for COVID-19 and future pathogens.

Sammy Bedoui - Theme Leader Immunology, Doherty Institute for Infection and Immunity
The Advanced Genomics Collaboration is the first of its kind. It utilises the University of Melbourne's research capabilities and personnel, and combines it with Illumina's industry expertise to provide improved public health outcomes, as well as models with commercial potential, scalable to global level.
How we helped
As a supporting partner, Invest Victoria assisted Illumina and the University of Melbourne to secure the resources needed for the $60 million Advanced Genomics Collaboration facility.
Looking to the future
Illumina's partnership with the University of Melbourne places it at the forefront of the global genomics revolution. They are now positioned to benefit from the best minds and resources of Melbourne's Biomedical Precinct, with the potential to create scalable health solutions in genomics.
These collaborations in Melbourne are a great example of the magic that happens when some of the world's best organisations and minds come together to solve problems.

Simon Giuliano - Commercial Lead, Director of Sales, ANZ, Illumina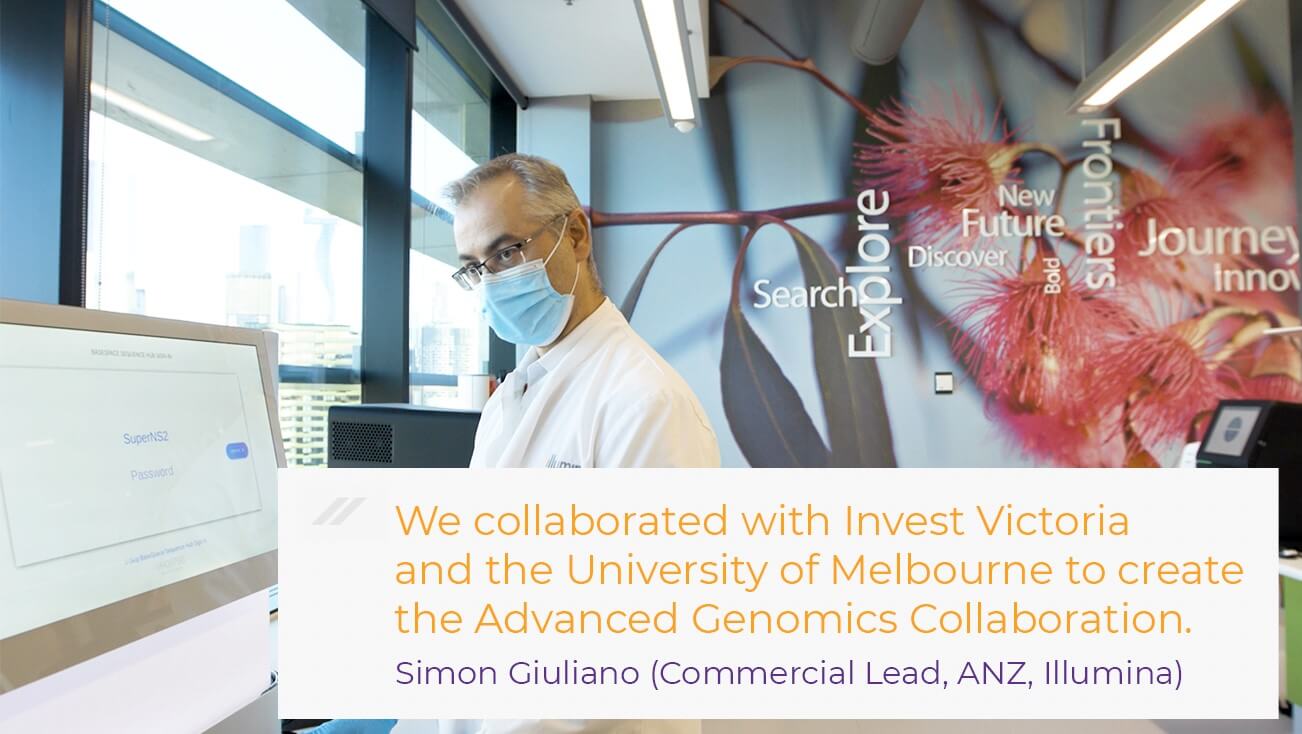 Find our more about investment opportunities in Digital Health.
To discuss opportunities for investing in Victoria Contact Us.