Melbourne CBD and Docklands Business Precinct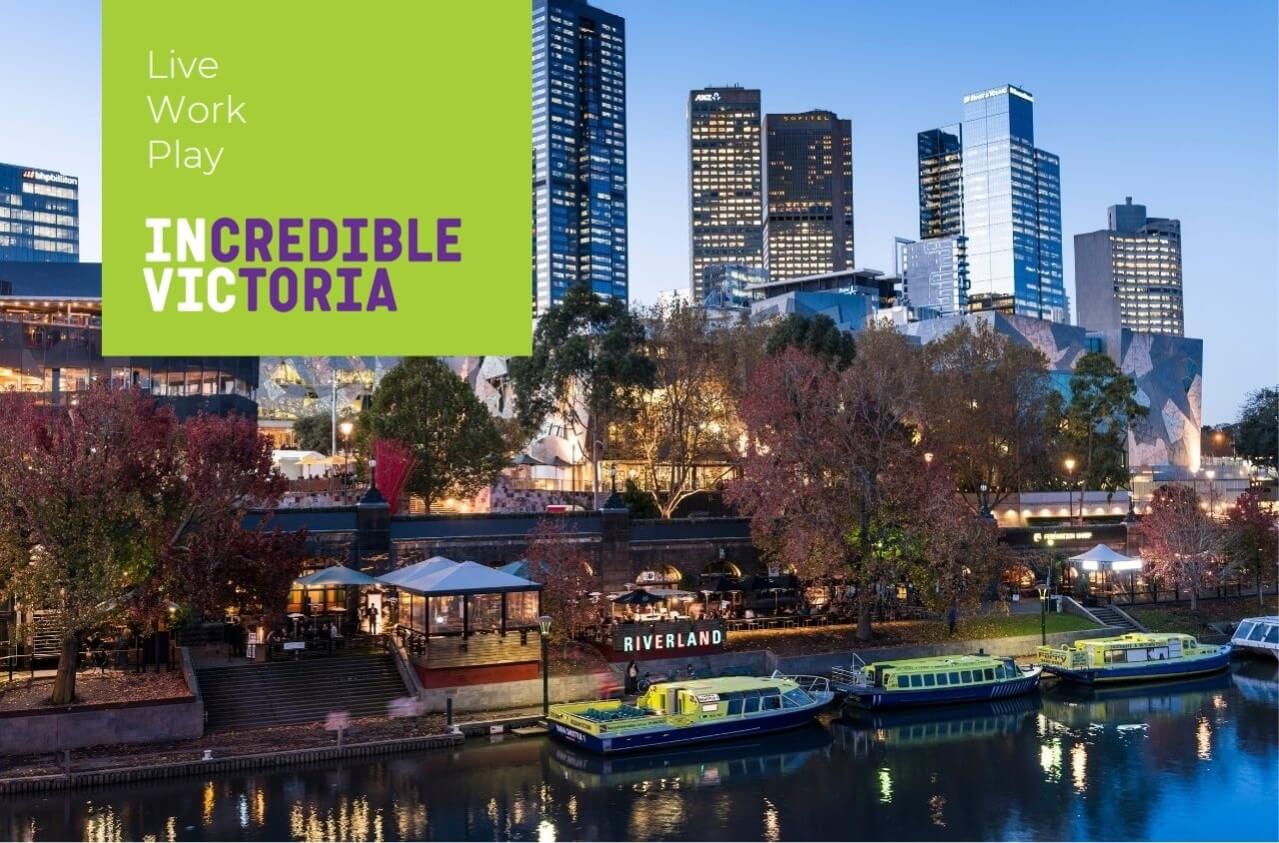 Work, live, play!
Live the dream in Melbourne's Central Business District (CBD). It is our premier financial and business hub complimented by vibrant retail, cultural and entertainment businesses and venues.
Offering globally competitive office and coworking spaces, vibrant innovation hubs, excellent connectivity and world-class liveability, Melbourne's thriving CBD attracts business and investors from around the world.
Join companies such as Google, Dataminr, Bupa, Revolut, GoCardless, DHL, Citic Resources and MTR Corporation Limited who have chosen to make Melbourne CBD their base.

Why investors are choosing Melbourne's CBD
Access to competitive office and co-working spaces
Melbourne hosts the largest CBD office market in Australia, growing to a total of 313,700 square metres of premium and A-grade projects in 2020.
The cost of Melbourne's prime office space is lower than that of Singapore, Sydney and San Francisco.2
Melbourne's average net effective rents are competitive in compared to other Australian cities - see graph below
Melbourne CBD has direct access to two major curfew-free airports and four deep-water ports, including Australia's largest capital city cargo port. It is well connected to other precincts and wider Melbourne, with 24-hour transport on weekends.
Access to world-leading universities and research centres
Ranked as the world's 3rd most innovative city, Melbourne is home to five world-leading universities and a booming ecosystem of research institutes and networks . In 2020 the Victorian Government also launched a A$2 billion fund to drive research and innovation, the highest of any State Government in Australia.
Live it up in with thriving retail and hospitality
With new shops, restaurants and bars consistently appearing, Melbourne's iconic foodie and shopping scene is the envy of Australia. A major driver of the economy, the CBDs retail and hospitality sector employs around 400,000 people, with a retail trade sector that has grown faster than any other state.
Enjoy prized gardens and public spaces
Melbourne has the most public parks and gardens within 5km of any CBD in Australia, encompassing nearly 480 hectares of internationally acclaimed green and public spaces that are perfect for leisure. Offering a variety of recreation and sporting facilities, Melbourne's rolling parklands include classic 19th century heritage and unique bushland landscapes.
Sources:
1. JLL - Office Stock Report 2020
2. CBRE - Global Prime Office Occupancy Costs 2019
3. The Australian Co-working Market Report 2019
Melbourne CBD has two key districts
Melbourne CBD (Central Melbourne)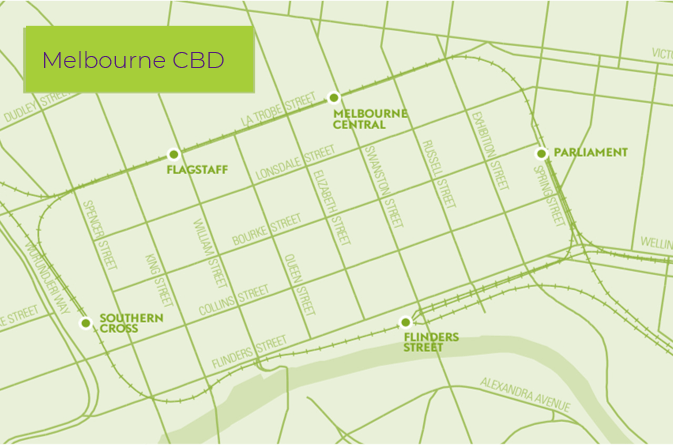 Laid out on a grid format, Melbourne CBD, a business and financial centre, offers commercially competitive and accessible business spaces that are situated alongside glorious parkland such as the Royal Botanic Gardens, Queen Victoria Gardens and Alexandra Gardens.
Home to globally-connected financial, mining, sporting and communications businesses, as well as cutting-edge scientific and technical capabilities, this precinct is a highly desirable location for businesses and investors from around the world.
Companies located in the Melbourne Central CBD include:
Business: Ernst & Young, PriceWaterhouseCoopers, Deloitte, KPMG
Financial services: Australian Super, SMSF Compliance, Industry Super Australia Pty Ltd, UniSuper
Mining: BHP Limited, Rio Tinto Limited, Dart Mining, Mining One Pty Ltd
Communications: Telstra Corporation (TLS), Novel Telecom Pty Ltd, Encoo Pty Ltd, Aatrox Communications
Government: Invest Victoria, Business Victoria, Department of Foreign Affairs and Trade, Austrade , Department of Jobs, Precincts and Regions, Victorian Department of Treasury and Finance
Attracting millions of domestic and international visitors every year, Central Melbourne CBD offers booming retail, unrivalled food and culture, and world-famous entertainment facilities such as Olympic Park and Melbourne Park, home to the Australian Open Tennis Championships.
Docklands Business Precinct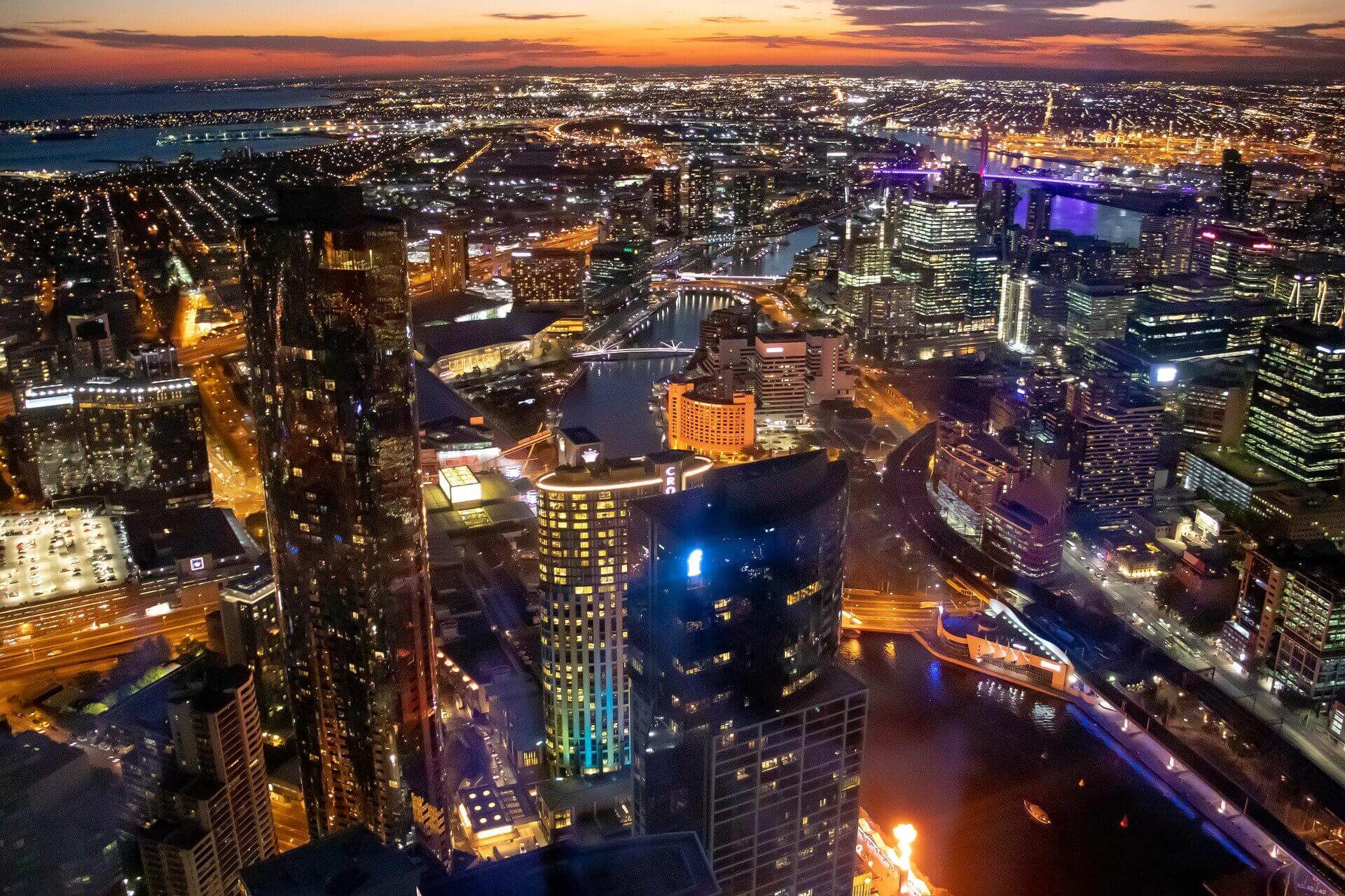 The Dockland Business Precinct is a premier financial and professional services hub, complimented by vibrant retail, cultural and entertainment businesses and venues.
Docklands is situated a 200 hectare waterfront, just one kilometre from the Melbourne CBD and minutes from other priority precincts.
Home to one of the largest concentration of green buildings in Australia, the area also embraces strong Ecologically Sustainable Development (ESD) principles.
Engrained in the fabric of the Docklands Business Precinct are international and domestic businesses, including:
Banking and finance: AMP, ANZ Bank, Australian Taxation Office, Bendigo Bank, Commonwealth Bank, LUCRF Super Fund, National Australia Bank
Professional services: Arup, Aurecon, BDO, Link Group, Maddocks Lawyers , Marsh and McLennan Companies, Medibank

Property, construction and transport: Lendlease, Regus, Transurban, Walker Corporation
Sports, media, and entertainment: Australian Football League, Docklands Stadium, Docklands Studios Melbourne, Nine Network (Channel 9), Pearson Penguin Publishing, Seven Network (Channel 7)
Retail: Costco, Dan Murphys, Hoyts Cinemas, Woolworths
Hotels: Marriott Hotel, The Sebel
We can help you with your next market entry project
If you are considering investing in Melbourne, we can help you scope the market opportunity in Melbourne/Australia and assist you with your business case development.
Working with us will allow you to be fully informed and limit the number of surprises associated with your new investment. Our staff are experienced and well connected and can introduce you to potential partners to help make your investment a success.
Contact us
UK and Europe
enquiries
contact Tim Dillon
Agent General, UK
Email Tim
US enquiries
contact Nigel Warren
Commissioner,
North America
Email Nigel
SE Asia enquires
contact Holly Butler
Interim Commissioner,
South East Asia
Email Holly
All other enquiries
contact Craig Harrison
Executive Director,
Melbourne
Email Craig
Or go to our All Offices page to find your nearest Invest Victorian representative.