1 MINUTE READ
Venetoclax: Co-developed and trialled in Melbourne
(AUSTRALIA 2020)
Venetoclax is the result of a research collaboration between Melbourne's Walter and Eliza Hall Institute and companies Genentech, a member of the Roche Group, and AbbVie.
The breakthough anti-cancer drug, ventetoclax, was based on a landmark research discovery made at the Institute in the late 1980s, that a protein called BCL-2 helps cancer cells survive indefinitely.
The first clinical trials for Venetoclax were led by Australian haematologists at The Royal Melbourne Hospital and Peter MacCallum Cancer Centre, located in the Melbourne Biomedical Precinct and part of the Victorian Comprehensive Cancer Centre.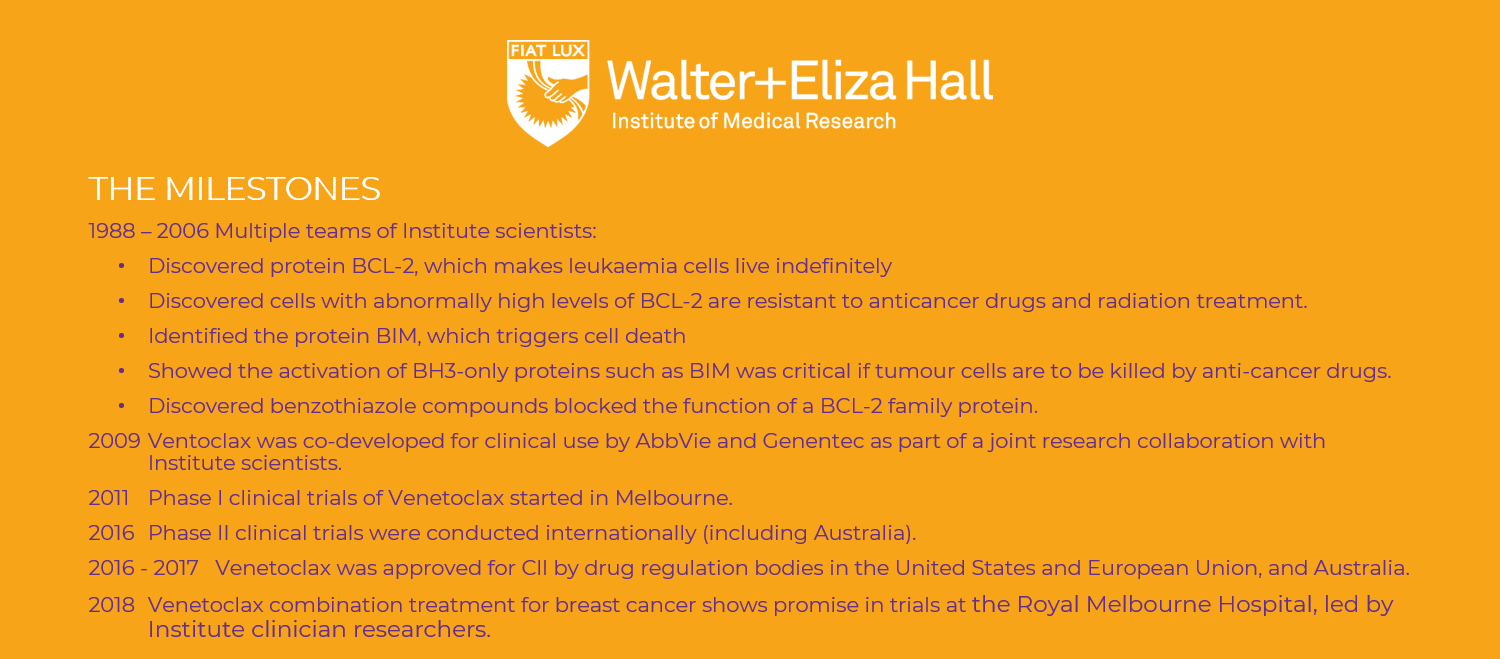 Approval of venetoclax for certain advanced forms of chronic lymphocytic leukaemia by drug regulation bodies in the US, the EU and Australia was a major milestone in a journey spanning decades of powerful and innovative research by teams of leading scientists, clinicians and entrepreneurs, including more than 100 researchers at the Institute.
In 2017, the Institute announced a landmark deal worth up to US$325 million from the partial sale of royalty rights in venetoclax. The Institute is reinvesting the funds into further health research, particularly into new facilities such as an on-site Drug Discovery Centre to enhance the discovery and translation of new medicines.
Clinical trials using venetoclax to target other forms of blood and breast cancers are currently underway and preclinical testing suggests drugs that target BCL-2 could also be used to improve treatments for lung and prostate cancers.