3 MINUTE READ
Neoen invests in Victoria's clean energy future
The Investment
(FRANCE 2021)
Global renewable energy company, Neoen installed and activated the largest lithium-ion battery in the southern hemisphere in Victoria.
The Story
Founded in 2008 and headquartered in Paris, Neoen is a leading French independent producer of renewable energy. The company specialises in developing, financing, building, and operating solar power plants, wind farms, and energy storage solutions. Their long-term vision is to produce competitively priced large-scale renewable energy in a sustainable manner.
Australia's abundance of natural resources makes it an ideal destination for renewable energy initiatives. Australia has the highest solar radiation per square meter of any continent in the world and meso-scale maps show Australia's greatest wind potential is along Victoria's coast. Plenty of sun and wind offers excellent prospects for large-scale projects, which is one of the reasons why Australia has become Neoen's largest market.
With an abundance of sun, and wind Australia is a natural choice for renewable energy projects.

Alicia Webb, State Leader - Victoria, Neoen

description
Neoen's projects are complex and at scale. To be successful, they require strong commercial and government partners, and they look to markets where they can establish long-term trusted collaborations.
Neoen's Australian projects have become global benchmarks, and their local collaborations have led to significant advancements in battery technology and deployment.
In the state of Victoria, we have already invested $800m in 650 MW of wind, solar and storage assets.

Alicia Webb, State Leader - Victoria, Neoen
In the state of Victoria, to date, Neoen has invested $800m in 650 MW of wind, solar and storage assets, including the Victorian Big Battery. The Big Battery, as it is commonly known, is one of the world's largest and will provide a range of services to the state's electricity network, enhancing reliability, lowering prices, and unlocking further potential for renewable energy. It is situated near Geelong, just an hour from Melbourne. Neoen was awarded a grid services contract with the Australian Energy Market Operator (AEMO) and with the storage facility developed in collaboration with Tesla and network partner AusNet Services, the Big Battery started operating just 12 months later. The battery will play a crucial role in contributing to the state achieving its renewable energy targets of 40% by 2025 and 50% by 2030.
Invest Victoria was involved early in XRHealth's Australian market entry journey, consulting on their strategic decision to base themselves in Melbourne and scale their service nationwide.
Hear from Alicia Webb on their investment journey - click to play video
How we helped
Neoen has enjoyed a long-standing relationship with Invest Victoria, and for this project, the specialist Investment and Facilitation Services teams at Invest Victoria proved invaluable. The teams are experts in facilitating negotiations with relevant agencies and help with planning, development, environmental, health and safety approvals as well as other regulatory controls. Neoen sought assistance to progress local regulatory approvals that had stalled. The team highlighted the strategic importance of the project and roadblocks they were experiencing to the regulatory authorities, helping Neoen progress the approvals it needed and improving its all-important speed-to-market.
Looking to the future
Neoen's work in Victoria is just beginning. The company remains committed to bringing innovative renewable energy solutions to support the state's transition to a net-zero economy by 2050. With a pipeline of over 2 gigawatts of projects in development, Neoen is also optimistic about its operations in Australia and aims to double in size by 2025.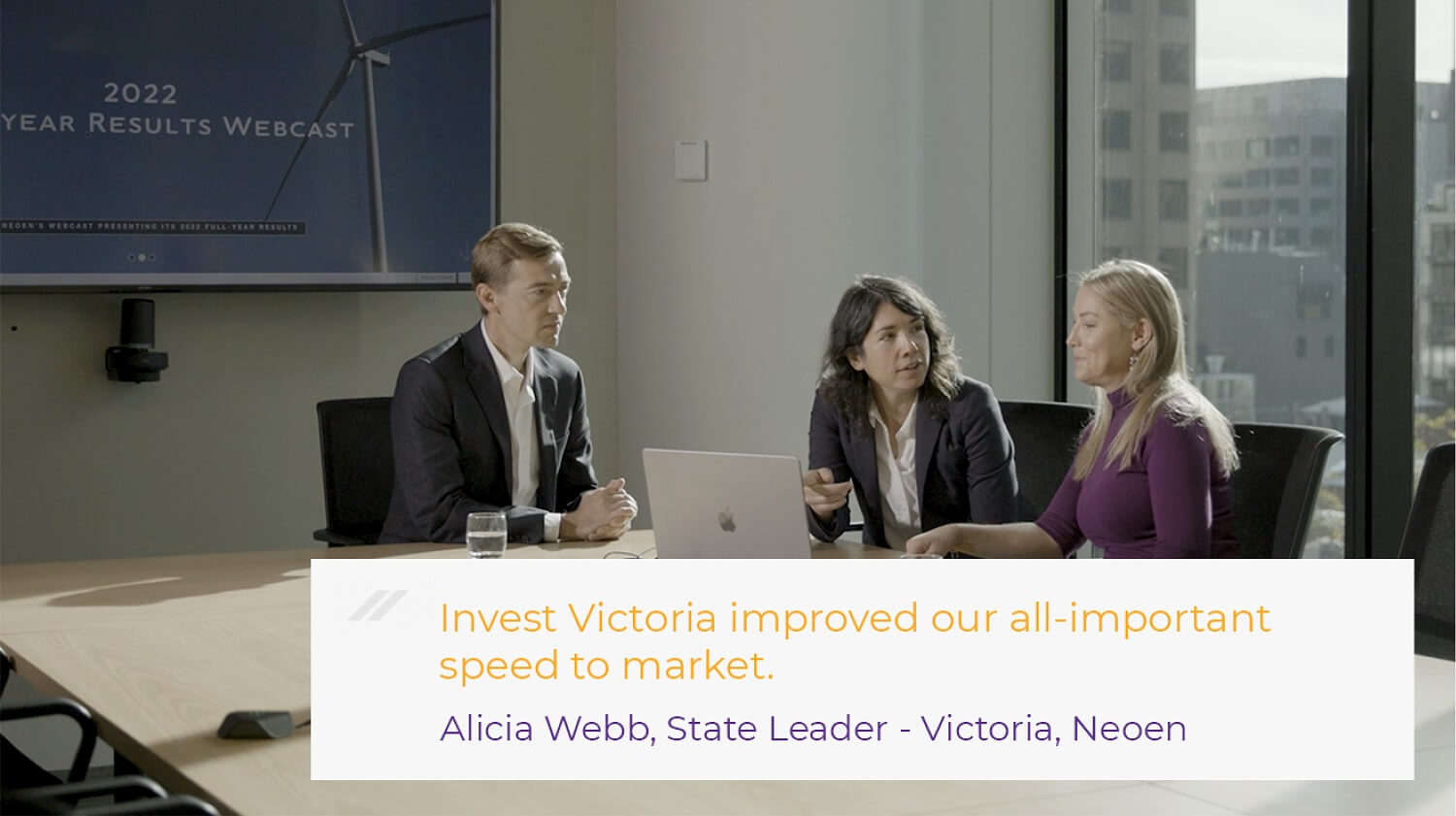 Find out more about investment opportunities in Clean Energy
To discuss opportunities for investing in Victoria Contact Us.