3 MINUTE READ
IDOM accelerates innovation in Melbourne
The Investment
(JAPAN 2022)
IDOM Innovations, a technology and innovation subsidiary of Japan's largest auto retailer, IDOM Inc, is locating its global headquarters in Melbourne, underlining Victoria's world-class capabilities in the digital technology sector. Invest Victoria assisted IDOM in setting up their global office and connected them with innovation partners in Melbourne.
The Story
Japan's largest auto retailer, IDOM Inc, through its subsidiary technology company IDOM Innovations, will set up a global base for its research and development operations in Melbourne. From its new Australian headquarters, IDOM Innovations will develop technology solutions to support its global activities.

IDOM Inc, listed on the Tokyo Stock exchange, employs more than 4,600 workers around the world, has a market capitalisation of US$1 billion and an annual turnover in excess of $4.3 billion.
IDOM Innovations was created in 2019, setting a goal to be the future of global automotive solutions. The pathway to this vision was in utilising new technologies, innovation, and unprecedented transparency for consumers.
In choosing the ideal location for their new global headquarters, IDOM Innovations considered their options carefully. This led to an early engagement with Invest Victoria, who showcased Melbourne's impressive capabilities in technology and innovation and provided invaluable facilitation support.
Hear from Takayoshi Udagawa on their investment journey - click to play video
IDOM was impressed with Victoria's dynamic digital tech community and ecosystem, its consistent flow of graduates from world-renowned universities, and the strong potential for innovation partnerships.
Additionally, Australian consumers were known for their rapid take-up of new technological solutions, which was a great fit for IDOM Innovations approach to new product development.
Following their decision to establish a Melbourne base, IDOM forged a partnership with RMIT (Royal Melbourne Institute of Technology), which is ranked amongst the world's best universities and has a global reputation for excellence in technology-based professional and vocational education and applied research.
The IDOM Innovation centre will work with RMIT and other Victorian universities to focus on critical future technologies such as AI, internet of things, blockchain, digital twins, augmented and virtual reality, user experience and circular economy.
Our Australian operations will use new technology to empower a simpler and more transparent ecosystem.

Takayoshi Udagawa - Chief Executive Officer, IDOM Innovations
IDOM Inc's presence in Melbourne further demonstrates Victoria's research and development capabilities in digital technology and its ability to attract innovative global businesses.
IDOM Inc is bringing its innovative products including AutoFlip, Centiv and Car Concierge to market locally, to the benefit of both dealerships and consumers, encouraging purchasing ease and a new level of consumer transparency.
The support from Invest Victoria and their role in introducing IDOM to Victoria's vibrant tech ecosystem was an important part of why Melbourne was chosen as their global base.
How we helped
Invest Victoria became involved very early in our journey in setting up our new global headquarters.

Takayoshi Udagawa - Chief Executive Officer, IDOM Innovations
Invest Victoria played a key role from the beginning of IDOM's decision to base themselves in Melbourne, demonstrating the state's world-class capabilities in the digital technology sector and initiating partnerships with Victoria's globally recognised universities. This relationship helped Idom to quickly understand the local landscape relevant to their business and to build a tailored strategy, as well as helping them to secure access to a pipeline of exciting digital tech talent for the future.
Looking to the future
With an auto sector that is constantly evolving to meet new consumer demands and behaviors, IDOM is set for a bright future in Victoria, using Melbourne as a base to expand their business internationally and to create new and innovative technologies. Through this initiative, Melbourne will become a place where new models of global automotive distribution will continue to emerge.
Our relationship with Invest Victoria made Melbourne stand out from the rest.

Takayoshi Udagawa - Chief Executive Officer, IDOM Innovations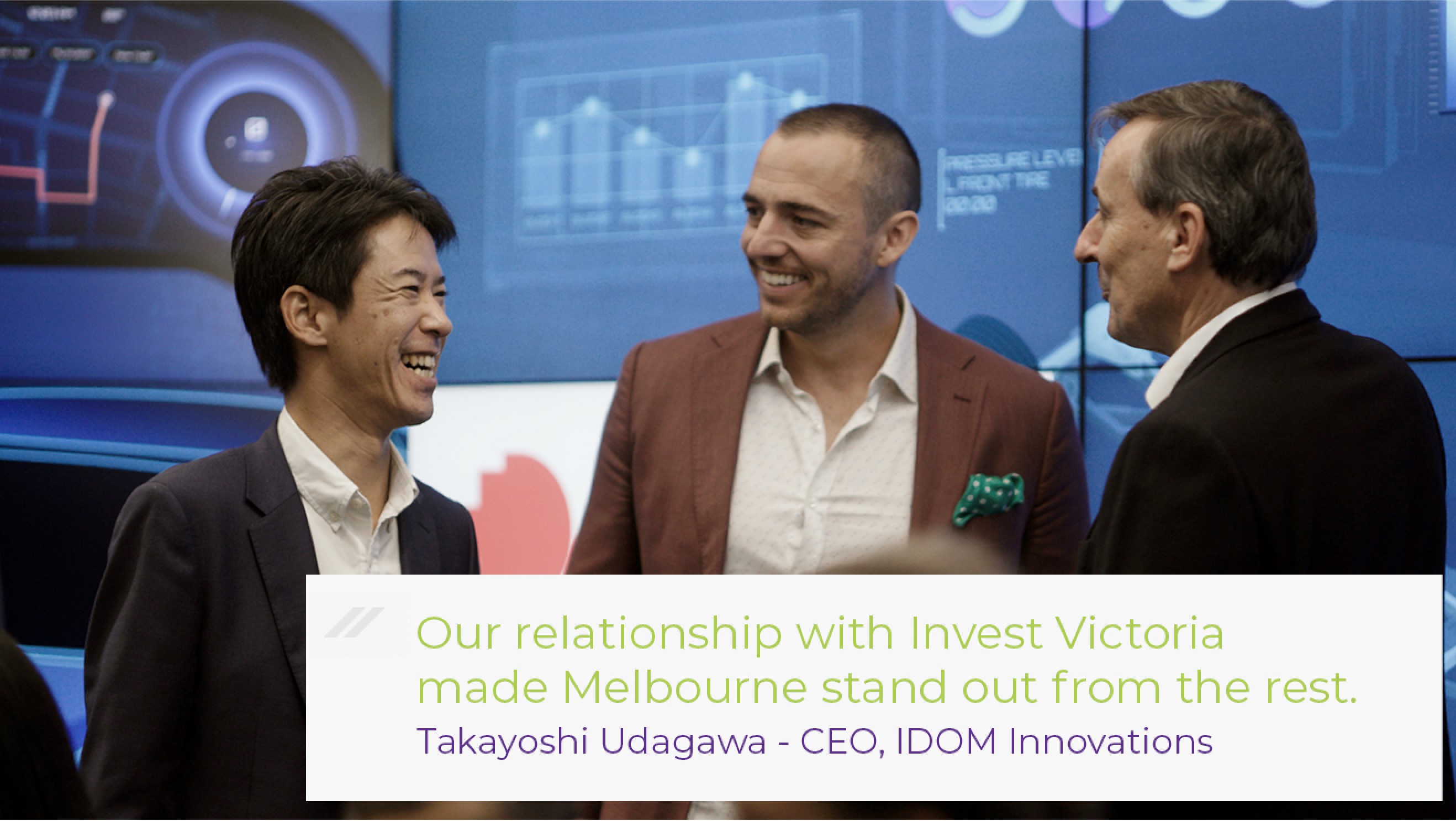 Find our more about investment opportunities in Software as a Service.
To discuss opportunities for investing in Victoria Contact Us.