3 MINUTE READ
Airtrunk powers the cloud from Melbourne
(SINGAPORE 2020)
The Investment
AirTrunk has expanded its Australian footprint by establishing its AirTrunk 'MEL1' data centre in Melbourne. From project commencement, Invest Victoria assisted AirTrunk's entry into Victoria and accelerated its speed-to-market.
The Story
Global demand for cloud services continues to climb exponentially, driving a need for technology companies to house data in data centres that are that is flexible and able to be scaled quickly, securely, and efficiently.
To meet the needs of the world's largest technology companies, global hyperscale data centre specialist AirTrunk is engaged in rapid expansion across the Asia Pacific (APAC). Key to its growth in APAC, hyperscale data centre MEL1 was envisaged for large cloud, content and enterprise customers that require mission-critical homes for high volumes of data.

We needed a location that we could bring to market quickly, with the ability to rapidly scale.

Prashant Murthy - Chief Financial Officer, AirTrunk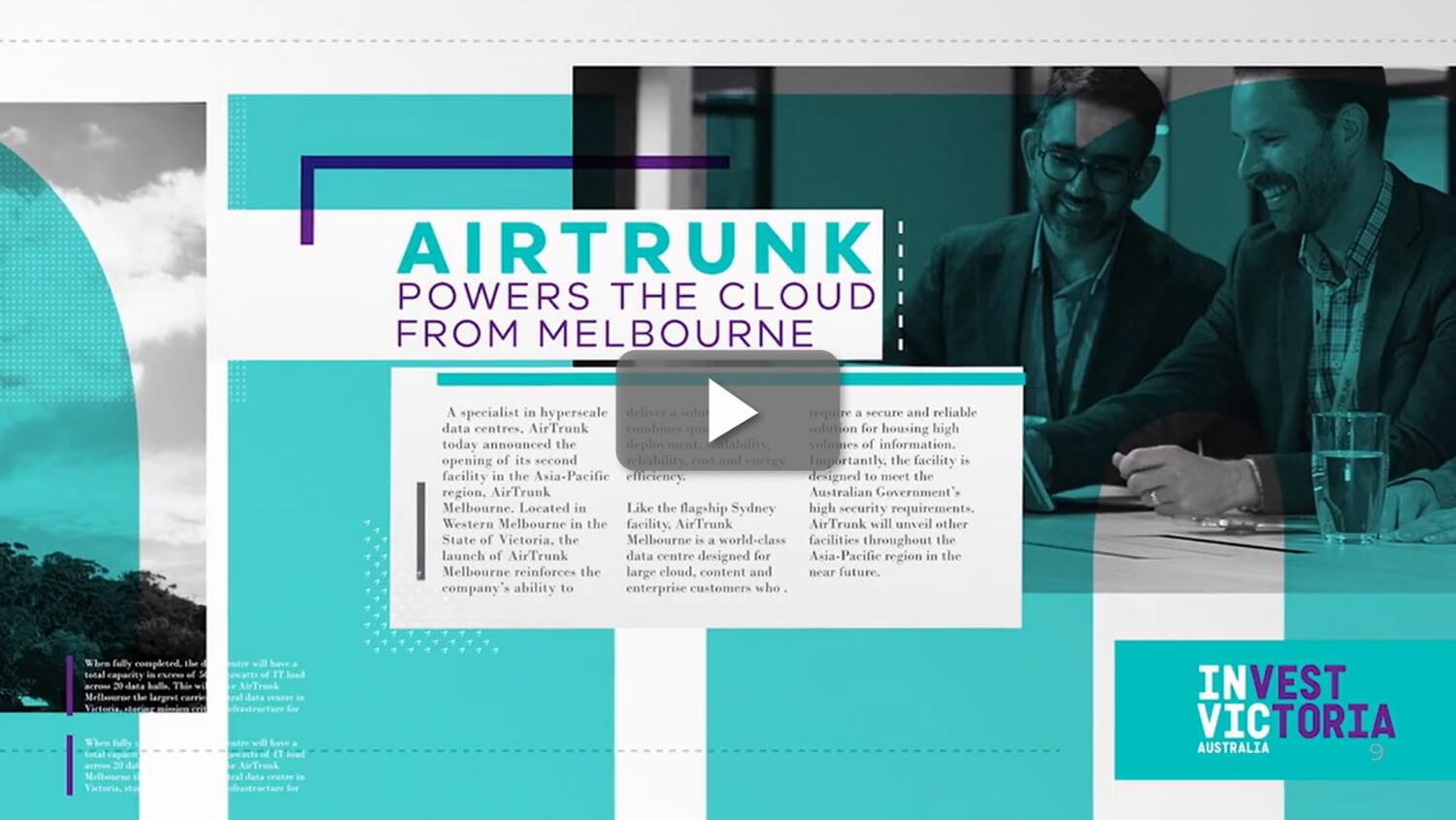 Hear from Prashant Murthy on their investment journey - click to play video
The expansion in Melbourne adds to AirTrunk's presence in APAC, which includes facilities in Sydney, Singapore, Hong Kong and Tokyo. The company has grown substantially since it was valued in excess of $3 billion, in early 2020.
AirTrunk needed to identify a location for the new data centre that would offer a total capacity in excess of 130+ (MW) of IT load across 34 data halls. Once completed MEL1 will be the largest data centre in Victoria, housing critical IT infrastructure for some of the world's largest technology companies.
A location west of Melbourne was identified and with Invest Victoria's assistance from project inception, AirTrunk commenced development of the first phases of the data centre. Invest Victoria's support helped to minimise the challenges around expanding the significant construction project during COVID-19, accelerating the delivery of the additional phases.
Set on 8.8 hectares, the data centre spans a huge 44,000 square meters of floor space, including data hall and office space. The company has invested close to a billion dollars into the Melbourne facility.
The establishment of the MEL1 facility further reinforces Melbourne and Victoria's position as a leading technology hub in the Asia-Pacific region.
How we helped
Invest Victoria's specialist team provided valuable advice as we entered this new market.

Prashant Murthy - Chief Financial Officer, AirTrunk
Speed-to-market is often challenging, and being able to expand MEL1 during a global pandemic was testament to the assistance and local insight provided by Invest Victoria's team, including site location, local and state government processes, power, road authorities and environmental approvals.
Partnering with Invest Victoria from project commencement allowed for rapid expansion into Melbourne while also meeting the Australian Government's high security requirements.
Invest Victoria further provided support in navigating ecological and heritage issues with the state and federal authorities driving timely decision making and enabling our speed to market.

Prashant Murthy - Chief Financial Officer, AirTrunk
Looking to the future
Having opened Australia's first and largest hyperscale data centres in Western Sydney and Melbourne in 2017, AirTrunk has expanded into Singapore, Hong Kong, Sydney North and Tokyo, offering a total capacity of 1.2 gigawatts – the largest data centre platform in APAC, excluding China. AirTrunk continues to redefine and deliver hyperscale data centres of tomorrow for the world's largest technology companies and is set to unveil more facilities throughout the region in the near future.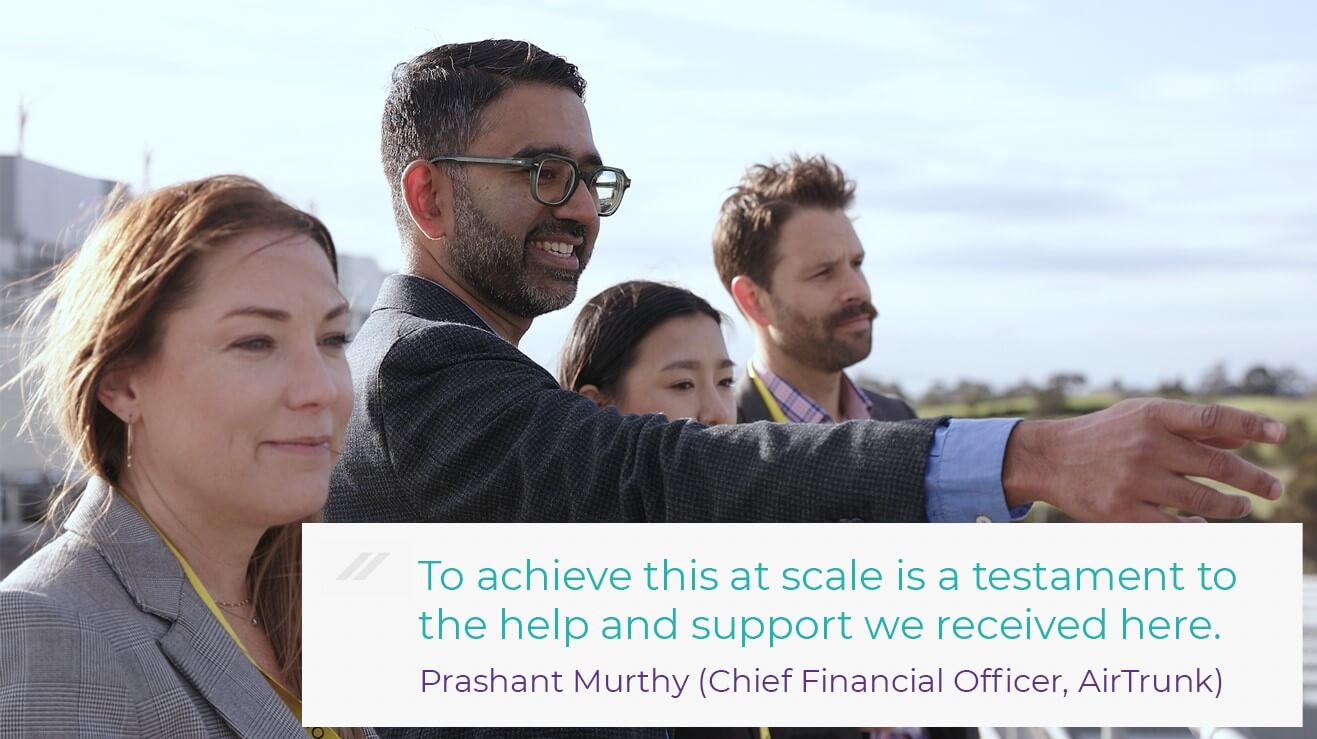 Find our more about investment opportunities in Software as a Service.
To discuss opportunities for investing in Victoria Contact Us.