Railway level crossings
The Victorian Government has committed to removing 50 of Melbourne's level crossings (railroad crossings) within the next eight years, with at least 20 level crossings to be completed by 2018. Several level crossings have already been removed with many more in construction, planning and early consultation.
Railway level crossings will be removed to relieve traffic congestion, enabling freight to be moved more efficiently across the city to ports and markets.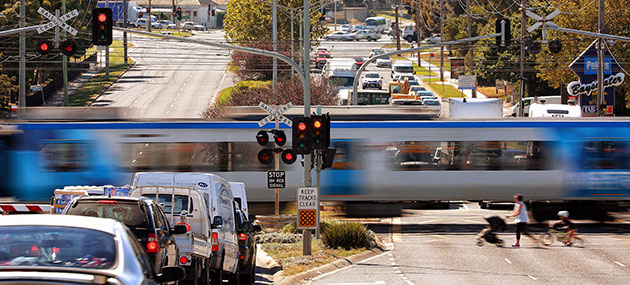 Level crossings are a major cause of road congestion and are also a barrier to running more train services across the city's network.
In many cases, the most effective way to remove the traffic bottle neck at a level crossing is to redirect the rail line underground. This approach is often the best way to maintain an appropriate level of amenity for surrounding residents and businesses.
This engineering work requires a considerable amount of track on either side of the crossing to be submerged, freeing up valuable land at ground level.
At some locations there is likely to be an opportunity to develop this newly available land and 'capture the value' created by the removal of the level crossing. While development opportunities will vary for each site depending on physical constraints, the Victorian Government is actively pursuing appropriate development opportunities.
Map of planned railway crossings to be removed and project status
For railway crossing removal status updates, please visit the Level Crossing Removal Authority website or view the progress of each level crossing to be removed.
Other infrastructure projects
In addition to the Metro Tunnel, there are a number of other projects that represent important opportunities for suppliers to infrastructure: West Gate Tunnel Project and Melbourne Metro Tunnel, and there is more in this video.