Wine
Distinct, quality wines produced in unique local climates
The diversity of Victoria's wine offering is marked and unmatched. Spread across twenty-one wine regions including cool rolling ranges, warm riverlands and crisp ocean climates, Victoria produces quality wines in every conceivable style, price and for every palate.
Victorian wine is recognised globally for a number of its award-winning varietals including:
riesling
chardonnay
pinot noir
shiraz cabernet
merlot
sparkling wines.
Their unique climates and geographical features create wines as distinct as the wineries that produce them.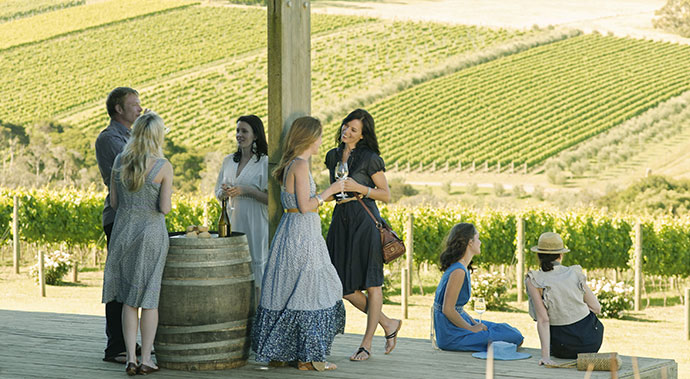 Production value, capacity and exports
Victoria is the third largest wine producing state in Australia and home to many international award-winning wineries. In 2013-14, Victoria exported A$182 million, accounting for 16 per cent of Australia's wine exports1 The industry produces 30 per cent of the value of Australian wines from over 800 wineries in 21 distinct wine regions, covering 25,000 HA.2
Careful management and ongoing improvement
Victoria's wine grape growing industry includes both independent growers that sell their produce to wineries, and a large number of wineries that grow grapes for their own use.
Victoria produces high quality food products by superior traceability and safety processes. World-class food research facilities underpin this industry, which has demonstrated its innovative prowess and commitment to sustainable farm practices.
The Victorian Government continues to invest in world-class regulation, research and development, extension services, transport, and infrastructure.
Research institutes working with this sector
line
Sources
State Government of Victoria – Department of Primary Industries: Food and Fibre Export Performance Report