Dairy
Victoria is the Asia Pacific's most productive dairy centre, out-producing other Australian states for dairy products - the state's one million cows produce two thirds of the nation's milk. Victoria's strength as a dairy producer, processor and exporter is a supply base flourishing in clean pastures and a mild climate. Total dairy exports for Victoria in 2013 – 14 were A$2.3 billion.1
Over 40,000 people work in Victorian dairy production. Around 11 000 of these work in dairy food processing, while over 16,000 people work on over 4,000 licensed dairy farms.2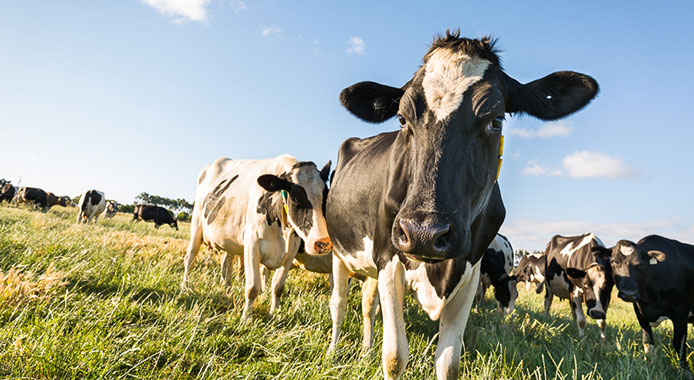 Confidence inspiring food safety and advanced infrastructure
The country's biggest dairy supply chain is backed by high food safety standards, strong local research, advanced infrastructure, and government support. We apply strict national and state standards to our premium products. The Dairy Food Safety group licences every dairy premise while our production and supply chain has complete traceability.
All major infrastructure is well connected with freeways, enabling easy access to and from the Port of Melbourne and all airports, as well as regional Victoria and other major Australian airports.
Substantial R&D, generously supported
Victoria has a tradition of innovation and creative exploration. The state's R&D sector, the most generously supported in the country, works closely with our food processing industry. Our dairy R&D efforts are directed at:
genetic improvement and cow fertility
milk yield and quality
improving feed conversion efficiency and herd nutrition management
developing new forage systems and grazing management strategies
new technology for more efficient farm water use
Some of our recent research and innovations are:
capturing valuable proteins from whey, once considered a cheese waste product
packaging technologies that minimise waste
new processing technologies that deliver safe and fresh foods, including high-pressure processing, pressure-assisted thermal sterilisation, ultrasonics, pulsed electrical fields and microwave technology
Government support efforts for this sector
AgriBio established a A$288 million biosciences research centre at Latrobe University (2013)
Victoria offers these advantages for dairy
Melbourne has some of the highest quality drinking water in the world. It originates in our carefully managed catchments, many of which are located in isolated mountain forests.
Melbourne water quality is managed using the Hazard Analysis and Critical Control Points (HACCP) system. Originally designed for the food industry, it assures water quality from our pristine catchments to the consumer.
Melbourne's water storage systems are currently around 80 per cent full.3 A recently built reverse-osmosis desalination plant can complement the catchment system with water that meets the world's toughest quality standards for drinking water.
A vibrant market and cluster presence
Victoria is the largest food-processing state in Australia with 3,600 food processing enterprises. The food industry employs over 133,000 people, exporting to over 100 countries worldwide.4
We have very high food safety and biosecurity standards
Collaboration is integral to how we work in Victoria, and is strongly encouraged and supported by government agencies. For example, Melbourne is home to Food Innovation Australia Limited, an industry-led network set up to speed up commercial collaboration in the food and beverage industry.
A state with a wide field of talent
Over 40,000 people work in Victorian dairy production. Around 11,000 of these work in dairy food processing, while over 16,000 people work on the state's 4,280 licensed dairy farms running over one million cows.5
Victoria has more university course completions than any other state in agriculture, environmental and related studies.6
Our dairy R&D is focused on milk yield, milk quality, cow fertility, improving feed conversion efficiency, developing new forage systems and grazing management strategies, improved herd nutrition management, and more efficient water use.
Melbourne is an acknowledged international leader in agricultural biotechnology, with research strengths in high-nutrition pasture grasses and dairy genetics.
Recent dairy industry investments
Research institutes working with this sector
line
Sources
Australian Bureau of Statistics Catalogue 5368.0, International Trade in Goods and Services
State Government of Victoria - Department of Environment and Primary Industries, Victoria "Investing in Victoria – Dairy (2014)"
State Government of Victoria – Department of Primary Industries: Food and Fibre Export Performance Report
"Investing in Victoria – Dairy (2014)" Department of Environment and Primary Industries, Victoria
Department of Education: 2013 Award Course Completions