Melbourne's Monash University and Amearo Engineering have captured the attention of global aviation industry giants by creating the world's first 3D printed jet engine.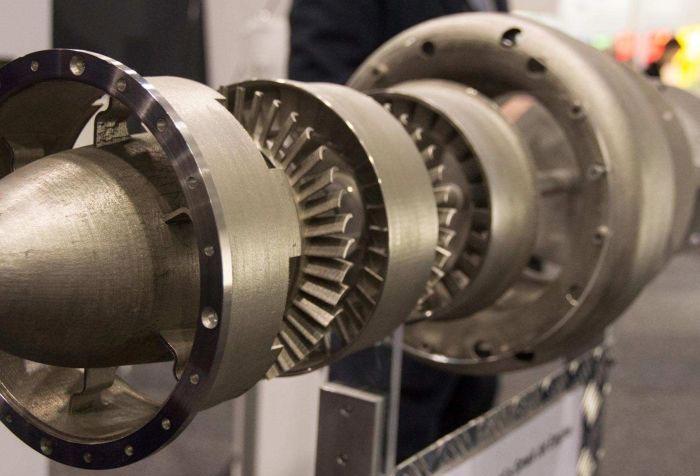 Image: 3D printed jet engine
The manufacturing breakthrough will lead to cheaper, lighter and more fuel efficient jets, and will result in advances in medical technology, according to engineers and researchers.
Working from their base in Notting Hill (22 kilometres south-east of Melbourne), researchers at Amaero Engineering, in partnership with Monash University worked to develop complex metallic instruments by laser-based additive manufacturing, also known as 3D printing.
"The project is a spectacular proof of concept that's leading to significant contracts with aerospace companies. It was a challenge for the team and pushed the technology to new heights of success – no one has printed an entire engine commercially yet," said Ben Batagol, of Amaero Engineering. It has attracted the interest of global industry giants, Boeing, Airbus and defence manufacturer, Raytheon.
"Australia's manufacturing industries need access to the latest technologies to stay competitive," said Professor Ian Smith, Monash University's Vice Provost for Research and Research Infrastructure. "This Centre allows them to rapidly prototype metal devices across a wide range of industries. It's part of a large integrated suite of facilities for research and industry at Monash," he says.
Two engines have been printed as part of the project, with one being displayed at the Australian International Airshow that took place in Avalon (1 hour southwest of Melbourne) this February / March.
This historic achievement serves to reinforce Victoria's reputation as a leader in aviation, aerospace engineering and advancing manufacturing. Victoria is a global centre of excellence in the global aviation and aerospace industry, with expertise in all areas of the industry from research and development through to final manufacture and production.
Victoria also has the region's largest concentration of aerospace education and training facilities, and is one of the most important aviation industry hubs in the Asia-Pacific region.